The myth about desserts and losing weight is that you have to cut out all desserts in order to stop gaining. This isn't necessarily true! The trick to being able to eat dessert is cutitng out other calories during the day. If you're consuming a large amount of calories from other meals during the day and then adding on a large calorie count at dessert, you're only increasing your calorie count. You can still go all out with delicious dessert as long as you're monitoring what else you have during the day.
Personal trainer, Sarah Lynn said she "started experimenting with gluten-free recipes made with healthy ingredients, and it happened that they also were a lot lower calorie than traditional desserts." Instead of filling up on sugary desserts, try something a little more healthy that still satisifies the sweet tooth!
[Photos: Shutterstock]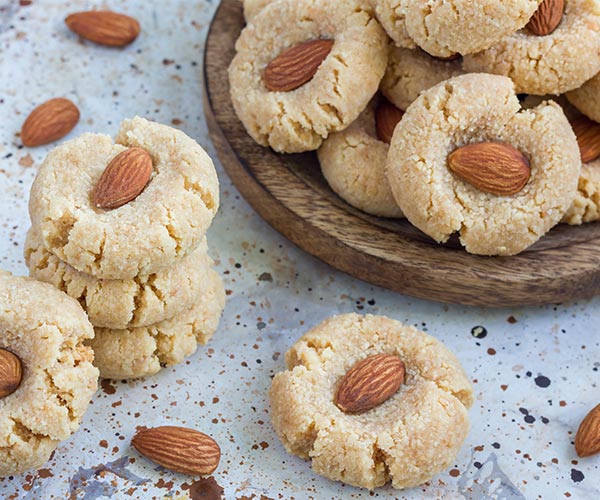 Almond Butter Cookies
Almond butter can give your diet the "antioxidant effects of vitamin E, magnesium and health fats for heart health. And, it also helps to stabilize blood sugar." If you add almond butter to your dessert routine if you're craving chocolate chips, or crunchy peanut butter, you'll cut down your calories! Try this recipe, which calls for a lot of great ingredients like coconut oil!
Cake Pops
We've all craved a great big slice of birthday cake, but we can't always indulge that craving -- especially not every day. A cake pop is a satisfying alternative to a giant, fat-filled piece of cake. The cake pop is tiny, but it'll give you the same satisfying taste without all the calories!
Frozen Fruit Pops
Try a fruit pop as a dessert! You can make them at home or buy them from the grocery store. Making them from home is more likely to ensure your fruit pop doesn't have any added sugar or preservatives! The sweetness of the fruit will satisfy your sweet tooth without making you feel bloated, or regretful of your dessert choice.
Dark Chocolate
Try adding some dark chocolate to greek yogurt, or substituting it into a recipe instead of normal chocolate! Dark chocolate is full of antioxidants, helps your heart health, and contains many other benefits. Adding dark chocolate can help in more than one area of your health!