If your go-to morning drink is coffee or tea, we get it. The allure of these beverages, and especially their energy-boosting powers that make tired, groggy mornings more bearable, can't be denied. But there's one morning drink that is gaining traction and becoming increasingly popular — and it doesn't contain a bit of caffeine, which can wreak havoc on your stomach and make you feel jittery.
Start your day with this one drink you should have right after you wake up and your body will thank you. It will increase your energy levels, make you feel more full and satisfied, and provide a ton of nutritional benefits you can't get from espresso or even green tea.
Chia Seed Drinks
You may already be sprinkling chia seeds in your yogurt or oatmeal, but one of the best morning drinks you can enjoy puts these tiny nutritional giants to good use in a more creative way: chia seed drinks.
True to its name, a chia seed drink adds chia seeds to beverages, allowing you to reap some of its incredible benefits: a wealth of omega-3's, complete protein, antioxidants galore, and healthy fats that keep you full and satisfied for hours. And there's another reason to love this drink: it's packed with fiber. A glass of chia seed drink in the morning flushes out toxins and helps regulate your bowels, which makes you feel energetic and ready to take on the day.
And this helps: whipping up a chia seed drink requires little more than three ingredients you may already have in your fridge and pantry.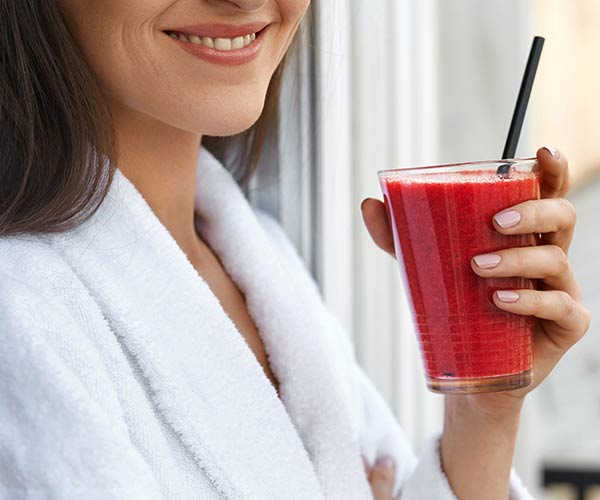 Make Your Own Chia Seed Drink
The most important thing to keep in mind when experimenting with chia seed drinks is that you'll have to plan ahead - they need to sit in the fridge overnight. All you'll need to whip up this chia seed drink recipe is a cup of your favorite juice, one cup of water, and three tablespoons of chia seeds. Since you are drinking seeds, expect the texture to be a little different (it may take some getting used to). But once it becomes a habit, you'll notice a big difference in the way your body feels, both in the morning and for the rest of the day.
For more tips on healthy drinks, check out The One Anti-Inflammatory Drink You Should Have Every Morning and The One Thing You Should Drink If You Feel Bloated on SHEFinds.com.
Photos: Shutterstock