Every season brings a fresh crop of wedding trends, and now that fall is here, autumn brides will be looking to showcase some of these latest styles on their special day. Alas, the introduction of new fads means it's time to say goodbye to some old ones. From mason jars and hay bales to huge florals and sparklers, wedding experts reveal the top nine fall trends that are out this year.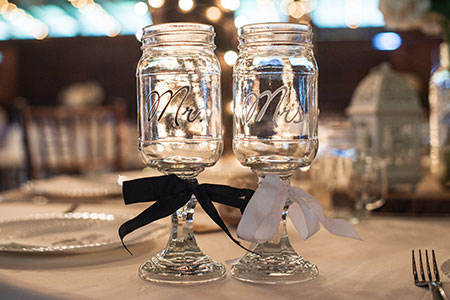 Shutterstock
1. Mason Jars
Gone are the days of each guest getting a mason jar to fill from the bar that evening, says Taryn Blake of Taryn Blake Events.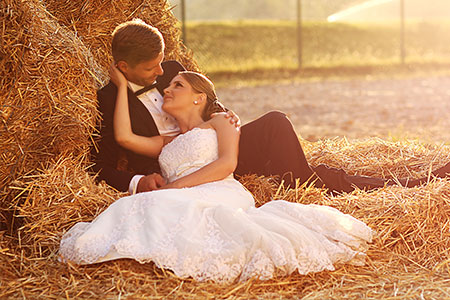 Shutterstock
2. Bales of Hay
Unless your event is at an actual dude ranch, couples should not ask their guests to sit on bales of hay. "Not only can it be uncomfortable, but it also poses logistical issues if there is any moisture or rain in the air, which can affect the feel and odor of the hay, neither of which are desirable as you walk down the aisle," says Emilie Dulles of Dulles Designs.
Shutterstock
3. Pumpkin Decor
Pumpkins are strong fall symbols and when peppered throughout a ceremony or seated dinner elegantly, they look and feel warm and of the season. But don't overdo it, says Dulles.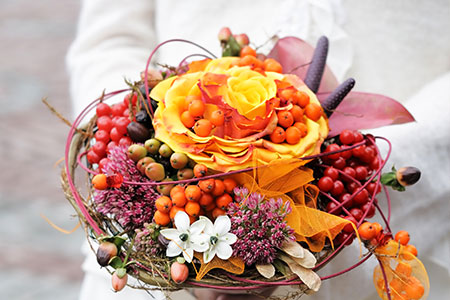 Shutterstock
4. Forcing Fall Colors
There's no need to worry about the rich jewel-toned seasonal color palette for fall. Instead, Shannon Tarrant of WeddingVenueMap.com says couples should simply choose the colors that fit them best.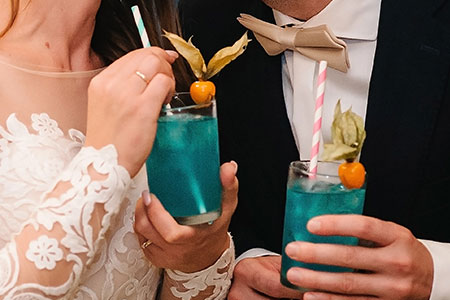 Shutterstock
5. Standard Signature Cocktails
"I'm finding that couples this fall are pushing the envelope with interactive beverage stations instead. Guest experience is the top focus so expect options like on-site wine tastings and bubble bars to take over," says Heather Jones of Wente Vineyards.
Shutterstock
6. Large Floral Installations
Post Meghan Markle wedding mania has been all about huge floral installations, especially arches reminiscent of the royal wedding, explains Kylie Carlson of The Wedding Academy. "But couples this fall are starting to see that there can be other ways to wow with florals without this much loved (but often mimicked!) look."
Shutterstock
7. Velvet
"Every year, there seems to be a new 'texture of the moment' in linens.," says Carlson. "First, it was burlap and lace, then sequins.But this fall, couples are officially skipping velvet, the darling of late 2019/early 2019, and looking for fresh approaches to their rentals."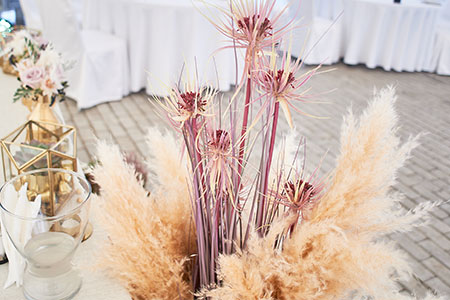 Shutterstock
8. Pampas Grass
"Pampas grass has been huge in 2019 but the downside is that it saturates the industry quickly. It's been so prominent that I expect couples to say their final goodbyes to it this fall, while on the hunt for the next big thing," predicts Carlson.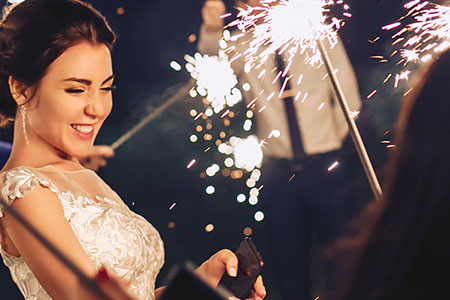 Shutterstock
9. Sparkler Sendoffs
While the pictures can be cool, everyone has seen enough of this trend, says Blake, adding that mixing fire sticks with intoxicated guests is never a good idea.