Carbs can be amazing fat-burning foods — provided that you are choosing the right ones. When it comes to deciding which carbs to include in your diet and which to set aside, it's a good idea to think about foods that are found in nature. The best carbs are those that don't come in boxes or aren't filled with sugar or salt.
Shutterstock
The best carbs to eat are unrefined carbs — those that contain a wealth of fiber, vitamins, and minerals. Adding more "good" carbs to your diet will "naturally shed excess weight. You'll also give yourself optimal protection again chronic conditions like heart attacks, stroke, type 2 diabetes, and high blood pressure," Kimberly Gomer, MS, RD, Director of Nutrition at the Pritikin Longevity Center, told Pritikin Longevity + Spa.

Pritikin identifies the following five fat-burning carbs as excellent for your health and weight loss goals. And they all share one thing in common: they can be found in nature.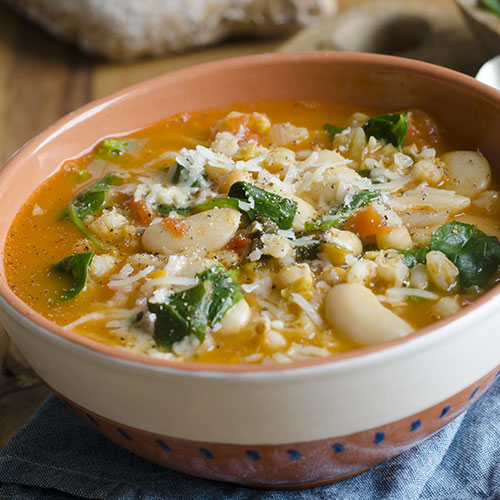 1. Barley

One of the most healthy and satisfying grains you can eat, barley is rich in fiber, copper, vitamin B1, magnesium, and phosphorus. This grain actually reduces your appetite and fills you up so that you eat less overall. Barley even contains beta-glucans that lower "bad" LDL cholesterol levels.

You can enjoy barley as a side dish or add it to just about anything — from soups and salads to pudding.
Shutterstock
2. Bananas

As a low-energy-density food, bananas are the perfect weight loss snack.

According to Livestrong: "Energy density is a term used to describe the number of calories per gram of food, reports the Centers for Disease Control and Prevention. Low-energy-density foods provide more food with fewer calories, primarily because they have extra bulk from calorie-free water and fiber. The benefit of low-energy-dense foods is that you can eat more food while keeping calories down, promoting weight loss."

Bananas are also chockfull of fiber and have resistant starch that helps you drop pounds. With fiber, potassium, and vitamins galore, a banana is one of the healthiest carb choices.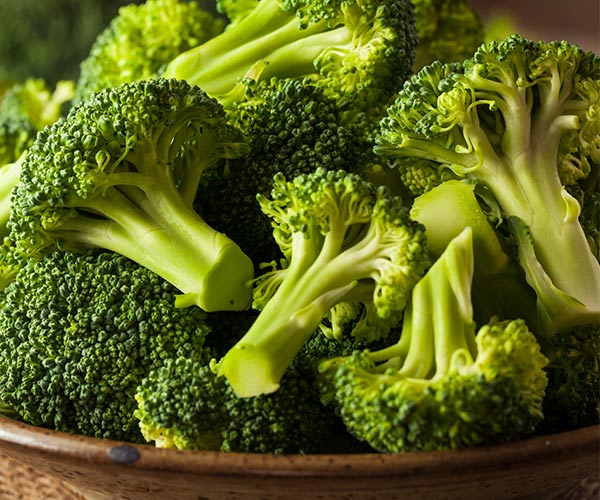 Shutterstock
3. Broccoli

All green vegetables are incredible for your health and weight loss, but broccoli is kind of a superstar. It's rich in fiber and vitamins C and K and one study linked broccoli sprouts with a decrease in insulin resistance in Type 2 diabetes.
Shutterstock
4. Beans

Beans and legumes are a protein powerhouse filled with fills-you-up-fast fiber and fat-burning properties. Some of the best beans and legumes to eat, according to Reader's Digest, include chickpeas, fava beans, lentils, and peas.

Reader's Digest reports: "In a study published in
Applied Physiology, Nutrition, and Metabolism, University of Manitoba scientists found that hamsters fed diets containing 10 percent pea flour in place of cornstarch took in more oxygen, a measure of metabolic rate. Scientists believe this is because the pea-based diets contained nearly 25 percent more arginine, an amino acid that's been shown to increase both carbohydrate and fat burning."
Shutterstock
5. Sweet Potatoes

When you crave a more starchy vegetable than broccoli or spinach, sweet potatoes will satisfy that urge, but Brian St. Pierre, R.D., C.S.C.S., director of performance nutrition at Precision Nutrition and a member of the Men's Health advisory board, told Men's Health it's important to keep in mind that this veggie is not the same (calorie wise) as water-based vegetables like cucumbers, so while they are super healthy, they should be eaten in moderation.

"I would suggest folks think of sweet potatoes like a starchy carbohydrate—the same way they might think of whole grains," St. Pierre said.

Still, sweet potatoes are a starch-resistant food that will make you feel less hungry — plus they're packed with nutrients like fiber, vitamin A, beta-carotene, and vitamin C.