Smoothies need no introduction — the fruit and veggie-packed beverage can be enjoyed any time of day and adds numerous nutrients to your diet without the need to slave over a hot stove or keep track of food cooking in the oven. If you are searching for a fat-burning smoothie you should have when you wake up to get a flat stomach, look no further than smoothies that contain this one incredible ingredient.
Hint: it's leafy, green, and so chockfull of protein and fiber that including just a handful in your blender will automatically make you feel 100 times more healthy.
Shutterstock
Add Kale To Smoothies

Kale has so many benefits that the most difficult thing of all is honing in on its most impressive nutrients (there really are too many). If you are trying to lose weight or get flatter, more toned abs, this leafy green provides just 33 calories per cup, with 2.9 grams of protein and 2.5 grams of fiber. It has more than 100 percent your daily recommended value of two nutrients: vitamins A and C, and is a good source of magnesium, calcium, folate, riboflavin, copper, and manganese.

"Kale is rich in so many different things," Registered Dietitian and Nutritionist Cheryl Harris, of Harris Whole Health in Fairfax, told the Washington Post. Harris also pointed out that kale is an incredible source of Vitamin K and carotenoids, and that it also contains 45 flavonoids that have antioxidant and anti-inflammatory effects.
Shutterstock
Kale has low amounts of an antioxidant called alpha-lipoic acid. Fortunately, it only takes a small amount to help decrease insulin levels, according to studies. Because too much insulin can lead to health problems like Type 2 Diabetes, it's important to get this under control, and following a diet that is low in sugar and refined carbs and that contains lots of green vegetables is a smart strategy.

On a less serious note, controlling your insulin can also mean storing less fat in areas like your belly.

Adding kale to your morning smoothie is one way to reap the benefits of alpha-lipoic acid bright and early in the morning. And making wise food choices at breakfast often means following suit throughout the day with more good dietary choices.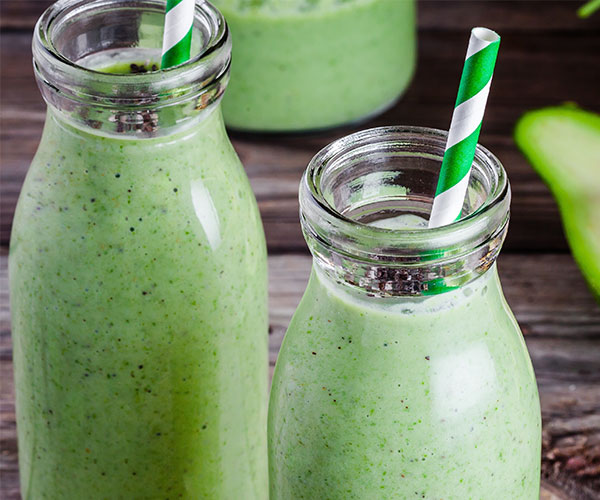 Shutterstock
Thanks to kale's high fiber content, a kale smoothie can boost your body's digestive system and help eliminate waste and toxins. Whether you are trying to get flatter abs or not, fiber fills you up, keeps you fuller for longer, and prevents you from overeating or snacking on unhealthy foods a few hours later.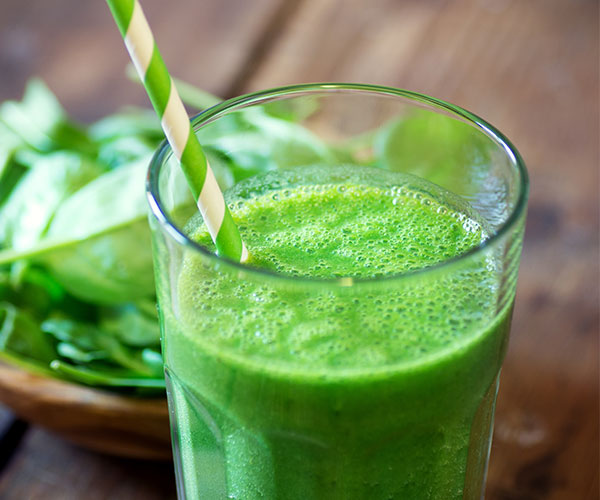 Shutterstock
High Protein Blueberry Kale Smoothie

Whip up this healthy, easy smoothie using two antioxidant-rich ingredients that are known for their belly flattening powers: kale and blueberries. This delicious smoothie contains a wealth of protein, fiber, vitamins, and minerals and will fill you up. Here's what you'll need:

Banana
Kale
Frozen blueberries
Low-fat yogurt
Protein powder
Flax seed meal
Cinnamon
Ice