The right fat-burning supplements can kickstart your weight loss goals or just help provide an energetic head start on groggy mornings.
It's important to be realistic and safe when it comes to supplements. Many are filled with caffeine, which can take its toll on your body and make you feel anxious and jittery. Others may be making lofty claims that no one pill can possibly satisfy.
It you're searching for one supplement to help aid an otherwise healthy diet and exercise regimen, try this one fat-burning supplement you should be having every morning to get a flat stomach fast.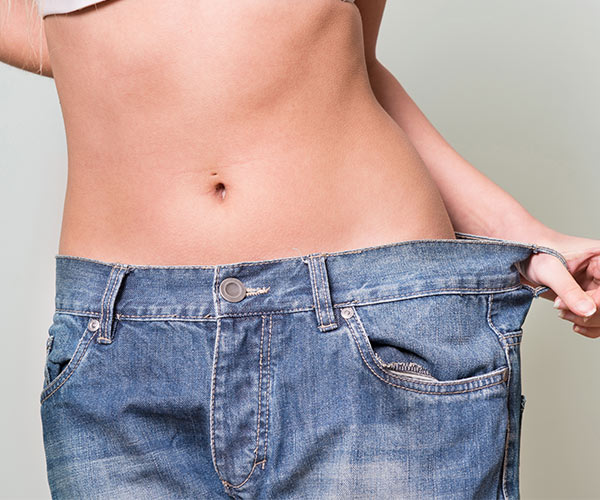 Shutterstock
Temper your expectations when it comes to supplements. A fat loss supplement is never a replacement for a better diet that eliminates sugar and processed foods and puts the emphasis on high-protein meals. And it can't give you ab definition if aren't incorporating both cardio and strength training into your regular workouts.

Any fancy supplement that makes these claims isn't being honest — and it may be better to stick with one natural supplement that has been shown to help boost your metabolism.
Shutterstock
Green Tea Extract

You've probably heard about the antioxidant goodness found in green tea. Unfortunately, you would have to drink quite a few cups of tea to reap the benefits of this amazing, medicinal tea strain, which fights inflammation in the body and boosts your metabolism.

But taking a green tea extract supplement is a safe and effective way to go about getting your daily dose of green tea, without having to consume so much of the beverage.
Shutterstock
As is the case with most supplements, there's a teeny catch: green tea itself isn't likely to be the reason your metabolism experiences a slight kick from this supplement.

"Any effect you see from green tea is probably due to the caffeine," Tod Cooperman, MD, president of the independent testing company ConsumerLab.com, told Health.com. A compound called EGCG (epigallocatechin gallate) may be helping to provide health benefits, but most supplements that claim they can boost your metabolism do so by incorporating caffeine into their formula.

"A stimulant will cause you to burn calories if it causes you to move more," Dr. Cooperman said. "And green tea contains a fair amount of caffeine."
Shutterstock
Most green tea extract supplements are safe, though it's always a good idea to talk to your doctor before starting anything new. But if you are sensitive to caffeine, it's important to remember that green tea isn't free of this stimulant.

Including green tea extract as a part of your healthy diet and exercise routine is smart and may be effective and beneficial in helping you lose weight faster. Just be sure to take it in the morning — you wouldn't want to experience a caffeine high just before bed.