A smoothie is a great way to get a serving of metabolism-boosting fruits and vegetables into your hectic day, but that's only when they're made with healthy ingredients. Experts say that most people are guilty of adding fattening ingredients to their smoothies to help enhance its taste and texture, listing artificial fruit juices as one of the worst ingredients out there. Not only are these juices high in sugar, but they also cause your blood sugar to spike and negatively affect your energy levels.
Shutterstock
Whether you prefer apple juice, orange juice, or a low-calorie tropical fruit blend, fitness experts say you need to be wary of the fruit juices you add to your smoothies because of their hidden sugar levels.
LeAnn Weintraub, a Los Angeles-based R.D., says that most dieters run into trouble when they use artificial fruit juices in place of real fruits and vegetables.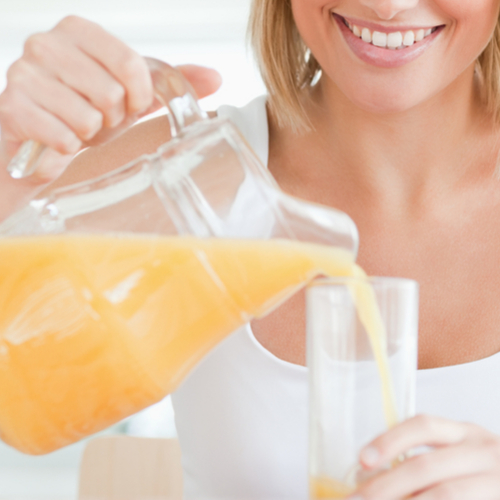 Shutterstock
"But use it entirely in place of whole fruits and you'll be racking up roughly 25 extra grams of carbohydrates and forgoing all of the satiating fiber real fruits provide," she tells Shape Magazine.
Shutterstock
Instead, Weintraub and other dietitians say it's best to fill up your smoothies with vegetables that are high in fiber like spinach and kale. They're filled with the essential nutrients needed to boost the metabolism and burn calories. This helps ensure that your blood sugar stays stable and that your energy levels stay high.