Sephora is home to some of the best beauty and skincare products on the market. So, when something is selling out fast, you know you HAVE to get it so you can see what all the hype is about. And from the looks of it, the PRO-FILT'R Foundation from Fenty Beauty is Sephora's next must-have.
[Photo: Shutterstock]
Rihanna's Fenty Beauty foundation has become quite popular since the beauty collection's release earlier this month. It's been getting high praises for its inclusive shade range and matte formula. Fenty Beauty offers 40 different foundation shades, ensuring that everyone can find their perfect match. But, it looks like it's the darker shades that are selling out the fastest.
[Photos: Instagram]
Not only are people racing to get these foundations because they came from RiRi herself, but mostly because there are so many shades available to darker skinned shoppers. "The dark Fenty Beauty foundation shades are sold out everywhere! This is for all the makeup brands who think the dark shades won't sell well," says Affinity Magazine on Twitter, who also included a picture of a Fenty Beauty foundation display that was complelely sold out of darker shades.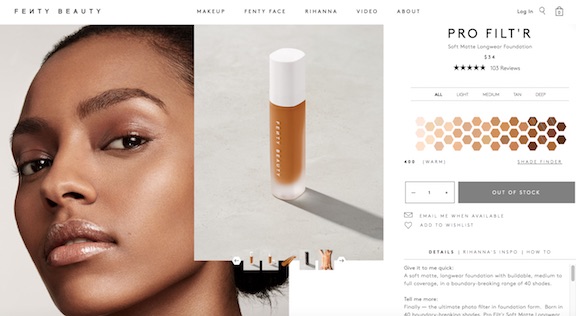 Sephora isn't the only place where this bad boys are selling out fast. Darker shades are also completely sold out on FentyBeauty.com, too! Shades 400, 430, 440, and 450 are out of stock on the website and in some Sephora stores as well. Wow, talk about a best-seller!
[Photo: Fenty Beauty]
This is amazing. Rihanna is really changing the game with Fenty Beauty. Hopefully her inclusive shade range inspires other brands to take this very important step!