If there's one spot on the body that is notoriously difficult to address when it comes to burning fat, it's the abs and lower belly. A lot of us simply store fat in this area and it takes a multi-prong approach to target the belly and shrink your waistline.
And sit ups alone simply aren't going to cut it.
The most important change you can make is to focus on what you are eating every day and eating less of — but you don't have to go wild and make adjustments to every component of your diet. This is the one food doctors swear by to lose belly fat faster than sit ups.
Shutterstock
According to Dr. Mike Roussell, who spoke with Shape, cutting belly fat requires an approach that incorporates cleaning up your diet and exercising regularly with a regimen that includes both cardio and strength training (keep the ab workout, but make sure you're adding in running or a HIIT workout component to get your heart rate up).

The diet part can seem intimidating — where should you start?

Before you even attempt to redesign breakfast, lunch, or dinner, start simple: with your snacking habits.
Shutterstock
A lot of people reach for simple carbs when they snack, with foods like pretzels and crackers high up on the list. But, according to Roussell, these foods don't offer much back in terms of nutrients. These processed snacks lack fiber, vitamins, and minerals and usually result in you feeling hungry an hour or two after your snack.
Shutterstock
A much better option for snacking? Nuts — any type of nut you crave, whether than means Brazil nuts, almonds, walnuts, or macadamia nuts.

"Snack foods like pretzels and crackers are carbs that don't do you any favors. Skip these easily over-consumed carbohydrates (even the whole grain ones) and snack on 1oz of macadamia nuts (10-12 kernels)," reports Roussell. "Macadamia nuts are packed with monounsaturated fats, and research consistently finds nuts to be a superior snack for weight loss and heart health than pretzels or similar snack foods."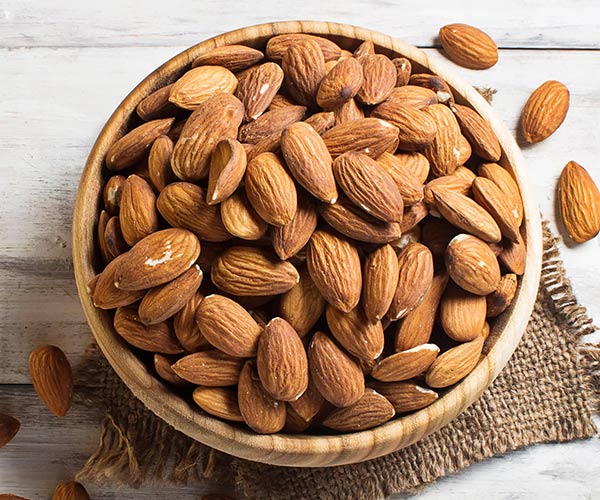 Shutterstock
One study involving 48 individuals with elevated LDL-cholesterol actually found that snacking on almonds each and every day reduced abdominal fat, while also lowering their cholesterol levels.

Your weight loss and fat-burning quest doesn't have to be daunting. Start with snacks, make a few healthy changes, like swapping carbs for nuts, and you'll be well on your way to your healthiest self.