Believe it or not, there's one food you can eat every day and still burn fat fast — and it's actually a food that contains a pretty high amount of fat.
Burning fat doesn't require total deprivation, nor does it consist of eliminating fatty foods from your diet. Choose the right ingredients and snacks — like this one food you can eat every day and still burn fat — and you'll add a wealth of nutrients with fat-burning properties to your daily diet.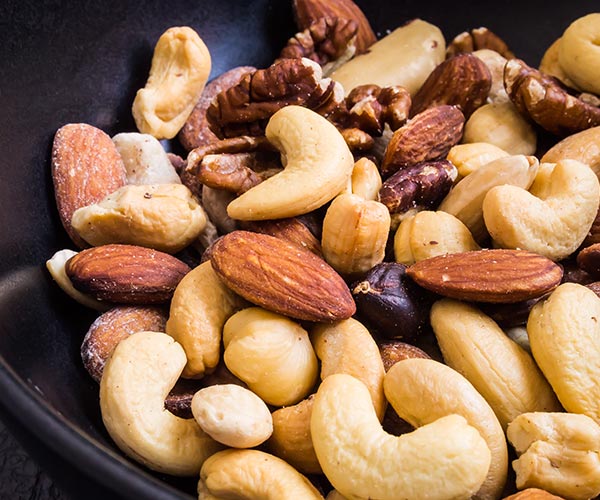 Shutterstock
Nuts
One study published in the British Journal of Nutrition totally debunked the idea that nuts, with their high fat content, couldn't possibly be a good food to eat if you're trying to lose weight. But the results showed that when overweight participants combined nuts with a low-calorie diet, they actually lost more fat than on a low-calorie diet alone.

The key thing to remember is that eating a ton of nuts isn't going to cut it — a handful of nuts each day, in conjunction with a healthy diet, is key to maintaining or losing weight.
And some nuts come out on top as better for you than others.
Shutterstock
Almonds
Almonds are satisfying and great at filling you up without weighing you down, which helps prevent overeating. But studies have also found that people who ate almonds every day were less likely to gain weight, despite the fact that a serving of about 23 nuts has 160 calories and 14 grams of fat — which makes it the opposite of a low-calorie food.

There are a few theories as to why almonds help with weight loss, including that not all of its calories are actually absorbed. The best way to incorporate them into your diet is in small doses, as snacks and between meals.
Shutterstock
Brazil Nuts

Eat just one Brazil nut a day and you'll reap the benefits of healthy monounsaturated and polyunsaturated fats, the latter of which can help burn belly fat and boost your metabolism. This nut, which has a creamier consistency than most other nuts, is also a source of fiber, protein, copper, zinc, magnesium, and selenium.
Be careful not to choose salted or roasted nuts, which are usually cooked in oil and can add on unnecessary calories and saturated fat.
Shutterstock
Pistachio Nuts

Pistachios are rich in omega-3 fatty acids that protect your heart and can lower bad cholesterol levels. Like other nuts, they're high in calories and protein content and also contain belly fat-blasting amounts of monounsaturated fats.

Because many pistachios are bleached, the best way to shop for them is to always buy organic pistachios.