Sorry ladies, hair loss isn't just limited to men. If you have a pile of hair littering your bathroom floor every time your brush, then it's time to take notice. The good news is that cause isn't necessarily hereditary. The bad news is that cause is most likely connected to your diet—especially if you use artificial sweeteners.
READ MORE: The One Product You Should NEVER Use Because It Causes Thinning Hair Over 40
Refined sugar is a known cause for hair loss, but it won't help to replace it with aspartame or other sugar alternatives. Despite the ongoing safety concerns issued by the FDA and mainstream health organizations, aspartame is still the most commonly used artificial sweetener in diet beverages. Dieters looking to cut calories from sugar often turn to sugar alternatives artificial sweetener, thinking it's healthier. Bad news—it's just as harmful as sugar itself in large quantities.
The FDA lists 92 adverse reactions associated with aspartame including hair thinning and loss. How exactly does aspartame make your hair fall out? Aspartame is made up of three chemicals: aspartic acid, phenylalanine, and methanol. When it breaks down in your body, some harmful by-products are formed including formaldehyde and formic acid. Formaldehyde is commonly used in beauty products as a preservative. It's been linked to cancer, adverse skin reactions, and hair loss.
READ MORE: The One Shampoo Dermatologists Say You Should STOP Using Because It Causes Thinning Hair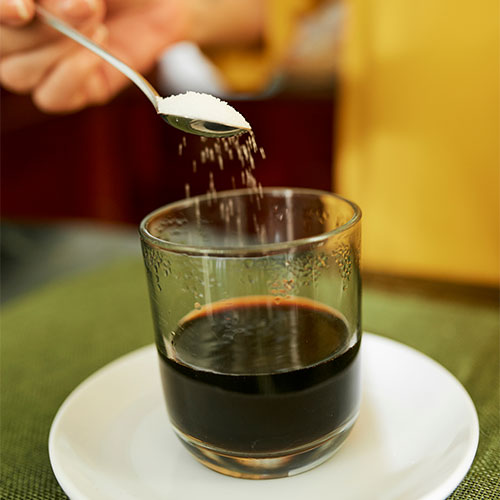 If you're scared straight and are going to ditch diet drinks for good, there's still hope for your hair! According to dermatologist Dr. Sanusi Umar of Dermahair Clinic, studies have shown that when patients consume diet drinks in large amounts, they suffer hair loss and thinning. Once the consumption decreases, the rate at which the hair falls out decreases—great news!
Although an occasional diet beverage isn't going to make you go bald, it's best to skip the artificial sweeteners entirely. Instead, try to use less natural sugar or use alternatives such as stevia. To regrow and strengthen your lovely locks, load up on foods that prevent hair loss such as Omega-3 Fatty Acids, zinc, lean proteins and selenium.