The older we get, the wiser we get — and that's an especially great thing when it comes to choosing more sensible, healthy foods that keep our bodies healthy.
A number of factors that include hormonal changes, stress, and menopause can contribute to a slower metabolism and natural body changes that occur as we age. It can become a lot more difficult to lose weight and body fat over the age of 50. But cutting out some of the worst foods on the planet — including the one food no one over 50 should be buying at the grocery store — will help.
Shutterstock
Soda And Sugary Drinks

Whether you're 15 or 50, there's one food that provides zero benefits: soda and sugary beverages.

It wasn't long ago that we mistakenly believed fat in the foods was the cause of weight gain and belly fat. Although saturated fat should be eaten in moderation, the truth is that added sugars are one of the absolute worst ingredients for your health and body.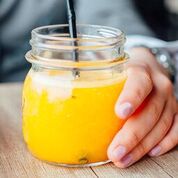 Shutterstock
The added sugars in foods like doughnuts and cakes will certainly spike your blood sugar levels and contribute to weight gain if you consume too many of them. But there's actually a difference between eating sugary foods, which may fill you up just a little, and downing sugary juices and sodas — the latter doesn't register as food to your brain, according to Healthline.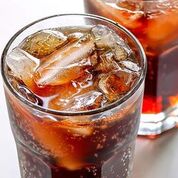 Shutterstock
Because your body isn't processing the message that sugar-laden drinks contain calories, you are more likely to consume far more of them than you should.

"When consumed in large amounts, sugar can drive insulin resistance and is strongly linked to non-alcoholic fatty liver disease," reports Healthline. "It's also associated with various serious conditions, including type 2 diabetes and heart disease."

And diet sodas, which contain artificial sugars, aren't a superior replacement.

According to Business Insider: "Scientists think that repeatedly tricking our body this way could explain why study after study keeps finding the same thing: that drinking diet soda is associated with metabolic syndrome. Metabolic syndrome is a mix of conditions that includes: increased blood pressure, high blood sugar, and weight gain. Which can increase the risk of diabetes, heart disease, and stroke."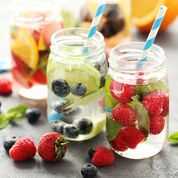 Shutterstock
If you choose sodas and juice because you can't stand the taste of plain water, it could help to add fruits and herbs like mint to your water. Not only will a splash of lemon or a few slices of cucumber jazz up the taste of water, but it will add vitamins and antioxidants to your drink — making it a win/win.