Losing belly fat isn't just a matter of upping the number of sit-ups you do and cutting back on alcohol, though both can help you achieve the results you want. To seriously burn stubborn belly fat, it's equally important to make changes to your diet and to be consistent with those changes.
The one food you should stop eating to lose belly fat once and fat all, according to nutritionists, is actually more of an ingredient that you'll probably find in more foods than you think.
Shutterstock
Some of the worst foods in the world for your health and that contribute to belly fat are processed foods filled with sugar. And the reality is: they're so much more prevalent than you might think.

You might be shocked to read the labels on foods like your favorite breakfast cereals or coffee creamers: many contain upwards of 9 grams (or more) for what amounts to very little nutritional benefits in return.
Shutterstock
According to the American Heart Association, women should have no more than 6 teaspoons of sugar each day, which amounts to 100 extra calories, while it is recommended that men have no more than 9 teaspoons of sugar per day. If you start to add up the amount of sugar you consume from foods like juices, candy, granola bars, and one lump or two of sugar in your coffee, you can see how easy it is for grams of sugar to add up.
Shutterstock
Sugar could be preventing you from having the flat belly you want, but it's also not doing any favors for your health.

According to BBC: "One 15-year study seemed to back this up: it found that people who consumed 25% or more of their daily calories as added sugar were more than twice as likely to die from heart disease than those who consumed less than 10%. Type 2 diabetes also is attributed to added sugar intake. Two large studies in the 1990s found that women who consumed more than one soft drink or fruit juice per day were twice as likely to develop diabetes as those who rarely did so."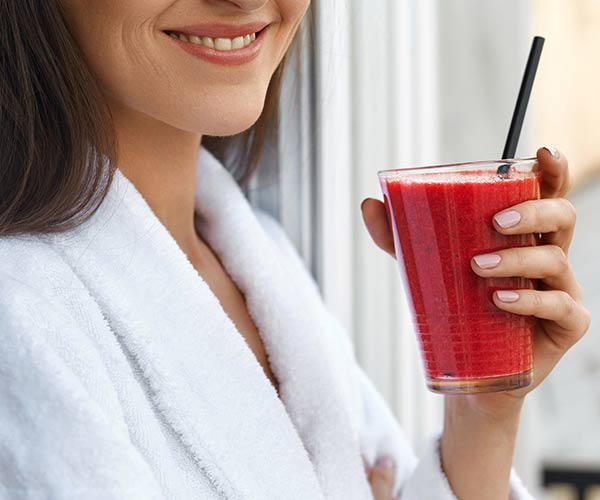 Shutterstock
Sugar intake is also connected to weight gain and belly fat. And, believe it or not, once of the biggest culprits is a food you might think is healthy: juice.

According to two experts from Rush, Rasa Kazlauskaite, MD, an endocrinologist with the Rush University Prevention Center, and Sheila Dugan, MD, a physical medicine and rehabilitation specialist, one good place to begin improving your food choices is to eliminate sugary drinks — and not just soda, but juices.

"Sugar increases belly fat and fiber reduces belly fat; thus when you're juicing fruits, you're removing the fiber, leaving pure sugar. So one quick fix, a very concrete fix, would be eliminating sugary drinks. Replacing sugary beverages with water will help dramatically cut down your sugar intake, and then once you've taken that step, you can figure out how to cut down on foods that are high in sugar."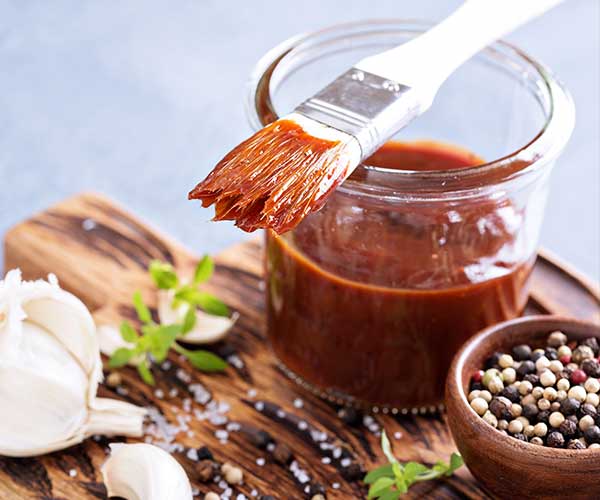 Shutterstock
One of the tricky things about reducing sugar in your diet is that you need to know which foods actually contain more sugar than you probably think.

You already know candy bars and juice are filled with sugar. But foods like BBQ sauce, ketchup, breakfast cereals, low-fat yogurt (non-Greek and especially those with fruit on the bottom), and even protein bars can contain extremely high amounts of sugar.
Shutterstock
Eliminating foods that are high in sugar is a great place to start when taking that journey into weight loss and a reduction in belly fat. But so is concentrating on adding more fiber-filled foods into your diet that will suppress your appetite and boost metabolism and healthy digestion.

Some of the best fiber-rich foods to add in include leafy greens, whole grain breads, quinoa, barley, and beans and legumes.

With the right foods and less sugar, you'll be well on your way to flatter abs.