Being that the majority of my career has been in fashion if there is anything I consider myself an expert in its shoes. I pay special attention to what happens south of my ankles and knowing (and having!) the best shoes has always been a top priority of mine. No matter if you're feeling bloated, tired or lazy, shoes will always be there to fit you and update your outfit.
More often than not, I find myself lusting after gorgeous shoes that give me blisters two minutes into lacing them up. However, when I stumbled across Frank And Oak's shoe section, my greatest hopes had been realized. I first heard of Frank And Oak when I tried their subscription service and with all the quality basics I got from that, I figured their shoes were probably a safe bet. Don't you just love it when you're right? I tried two pairs of their bestselling shoes and I'm officially a convert. Frank And Oak's shoes prove that you can have the best of both worlds – chic shoes that are legitimately comfortable.
Frank And Oak Pointed Babouche in Honey Gold ($125)
Frank And Oak Pointed Babouche in Honey Gold ($125)
To be honest, I've never really heard of the babouche shoe style until I saw it in person. My initial reaction was that I was going to look like Aladdin but to my pleasant surprise, these flats translate SO well in person. This slide is a bestseller because not only is the mellow yellow punchy and cute, it also functions as a slide AND a flat. If you're human, chances are you've ruined a pair of shoes by slipping your heels out of your flats and walking around with the backs of your shoes folded down. With these babouches, you don't have to worry about that. The back is specifically constructed to fold down so you can easily slip them on as a mule OR wear them as flats.
Frank And Oak Blocked Heel Cross-Strap Mule ($130)
I walked from my apartment to work (approximately 1.5 miles for reference!) in these mules and didn't get a single blister. Not only are these suede mules pretty, they're also functional and actually comfortable. When I am running around the city, they're my new go-to because the chunky heel is high enough to be considered a heel but also not so high where my arches begin to ache halfway through the day. The Italian leather on the interior is quite possibly the softest I've ever had in a shoe - it literally feels like butter when I slip them on.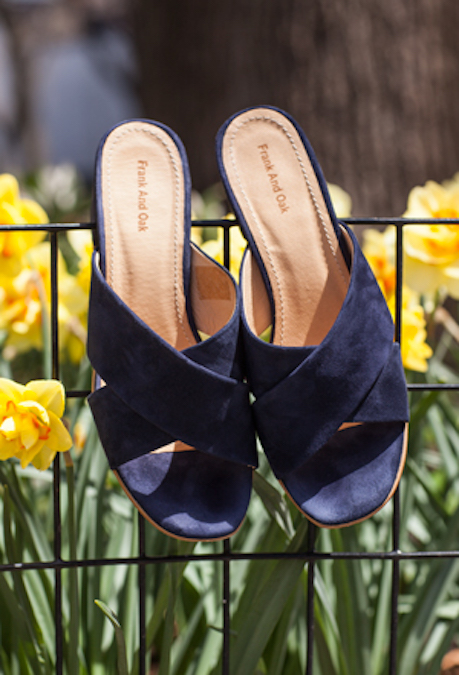 Frank And Oak Blocked Heel Cross-Strap Mule ($130)
I always love a good deal when it comes to adding things to my wardrobe but I've also learned the hard way that sometimes shoes should be an investment. The high-quality construction of Italian leather and suede means that while the initial price is over $100, they'll last you years so that you definitely get your money's worth. I already plan on wearing them all summer so if you're in the shoe market, these should be your go-to's.
Frank And Oak Blocked Heel Cross-Strap Mule ($130)
More on SheFinds:
-These Are The Best Natural Serums You Should Be Using, According To A Facialist
-These Comfortable Work Heels Are SO Good They Might As Well Be Flats
-This Everyday Bra Has A Magical Flattering Feature -& It's Currently On Sale
SheFinds receives commissions for purchases made through the links in this post.