Gigi Hadid has a lot to be excited about this month. She recently celebrated her two-year anniversary with singer Zayn Malik and was named one of Glamour's Women Of The Year. Now, the model has another exciting announcement to make! She's teaming up with Stuart Weitzman to create ANOTHER amazing collection of shoes, The Gigi Mule Collection. Seriously, they're so chic that you're going to want to buy each pair in the collection.
[Photos: Instagram]
Hadid and Weitzman are bringing us two exclusive and stylish styles this holiday season: the EYELOVE and the EYELOVEMORE. The two recreated the iconic shoe brand's existing mule silhouette to "reflect [Hadid's] sleek style and strong affinity for the mule," according to a press release.
Not only have Hadid and Weitzman created an incredibly cute collection of mules, but they're also continuing their charitable efforts with their collaboration. The Gigi Mules honor Weitzman's longtime partnership with Pencils of Promise and will raise money to help build three schools this fall/winter 2017: one each in Ghana, Guatemala and Laos. "MY HEART IS SO FULL," Hadid wrote on Instagram. "Thank you SW & PoP for the opportunity to help kids get the education they deserve, and thank you everyone who supported this collaboration & gave back in doing so! Look Good, Do Good. Let's do it again."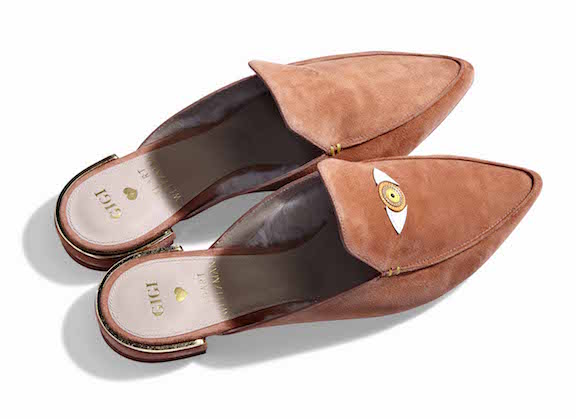 Let's get a closer look at these mules, shall we? Hadid drew inspiration from her personal connection to the mystical evil eye symbol. The EYELOVE mules, which features two styles in ballet tan and deep indigo suede, "showcase her minimalistic design aesthetic with one evil eye symbol on just the right foot of each silhouette," according to a press release.
Stuart Weitzman EYELOVE Mule in Ballet Tan ($498)
[Photos: Stuart Weitzman]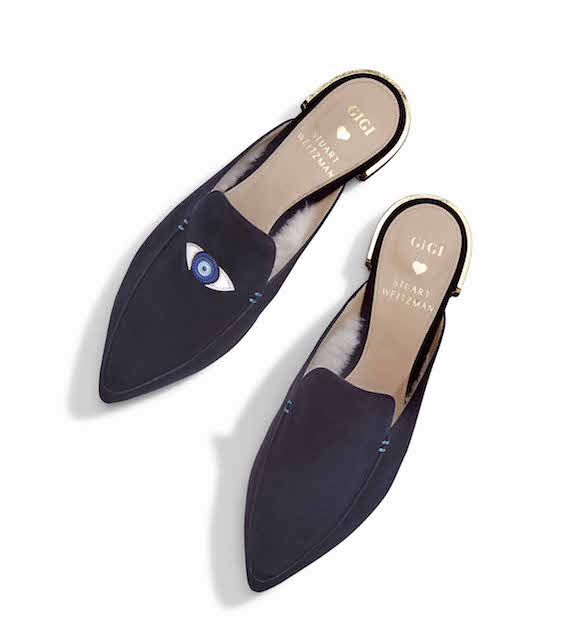 "I've really been into slides lately and wanted a pair that can take me into fall…no more cold toes! The evil eye is a powerful symbol meant to protect those who wear it from negative energies. It's emotionally comforting and beautiful and captivating to look at. The bright colors are fun and remind me why we designed these shoes. Look Good, Do Good," Hadid said, according to the press release.
Stuart Weitzman EYELOVE Mule in Deep Indigo ($498)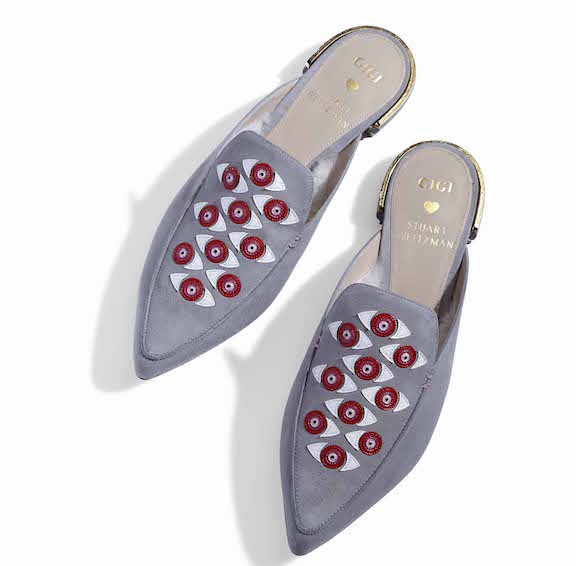 As for the EYELOVEMORE style, the design "illustrates her playfulness with its bold multi-eye pattern on both shoes." We're obsesed with this frosted suede material and the gold contrast on the heel.
Stuart Weitzman EYELOVEMORE Mule in Frosted Gray ($598)
Are you obsessed with these shoes? Head on over to StuartWeitzman.com to get a pair of the limited-edition Gigi Mules NOW!