On-demand beauty app company Glamsquad has launched it's own line of makeup!
The brand announced today that it has released it's own line of four hero products–a setting spray, tinted lip balm, highlighter and primer.
The carefully curated selection of products comes as a result of *years* of feedback from clients and stylists about what they really need when sitting in the makeup chair.
For example, artistic director Kelli Bartlett tells us, it was reported that clients lips are often dry so they formulated a super-hydrating tinted moisturizer that she can easily reapply throughout the night.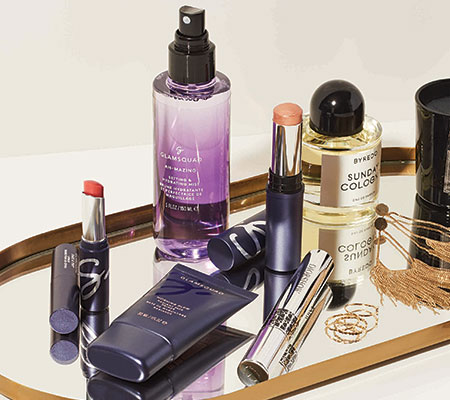 The crowd-sourced line comes a few months after the brand launched a successful hair product line as well.
We love the simplicity of the line–you don't need to watch hours of Youtube tutorials to learn how to use the products, or spend hours trying to determine your right shade. It's buildable, blendable and more importantly intuitive. Products like a highlighter stick in shimmery-yet-neutral shades make the line perfect for everyday use.
Additionally, being able to purchase the makeup that your artist used after your session–instead of having to hunt them down via the app to find out which shade of NARS they used on your cheeks–is a dream.
The collection is also perfectly priced under $30 ($22-$28) and is cruelty free and free of parabens, phthalates, sulfates and mineral oil.