Frizzy hair is not just a summer hair problem. It can happen at any time, any place or any season. "Your hair loses moisture throughout the day, so midday, the cuticle [the outermost layer on your strands] opens up and lets the outside air in, creating a frizzy mess," celebrity hairstylist Mark Townsend tells Cosmopolitan.
But, it doesn't have to be a life sentence! All you need are these life-changing tricks that will help eliminate frizz and give you healthy, salon-quality hair! Not only are these tricks going to transform your hair, but they're also super easy to follow and implement into your haircare routine.
From changing how you dry your hair, to swapping out your traditional shampoo and conditioner for a frizz-free formula, here are the life-changing hacks for frizzy hair that we wish we had known sooner: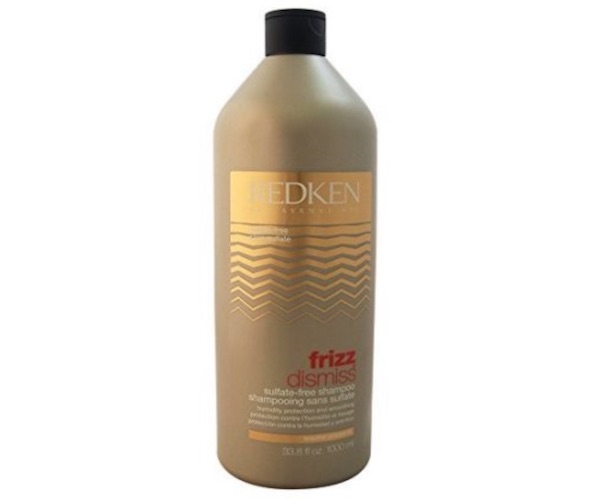 Redken Frizz Dismiss Sulfate-Free Shampoo ($26.99)
Try A Sulfate-Free Shampoo
The pros recommend using a sulfate-free shampoo to combat frizz. It should also feature glycerin, an ingredient that helps to "combat frizz by penetrating the hair shaft and hydrating it from the inside out. It also creates a protective coating over the outside of the hair shaft, so it doesn't break," says Townsend.
But, it looks like using too much shampoo could be another reason why your hair is frizzing. New York-based stylist Mark Garrison recommends skipping shampoo twice a week and only using a lightweight, hydrating conditioner on your hair. Don't worry, your hair will still be cleansed because conditioner contains a small amount of surfactants, which is what is used in shampoos, but the conditioner won't strip your hair of its natural oils.
Use A Hydrating Hair Mask Every Week
You treat your skin to a face mask every week, so why not show your hair some love with a hydrating hair mask? Doing a special treatment at least once a week will help repair your hair shaft. If your hair is frizzy from dry winter weather, doing a hair mask will help de-frizz and nourish your hair, too! Look for a mask treatment that features glycerin and strengthening proteins that will revive your hair.
Conair Soft Touch Hair Dryer ($23.99, originally $29.99)
Use A Diffuser
We know that blow drying our hair is a great way to eliminate frizz, but not everyone knows that you need a diffuser to help get the job done correctly. It spreads heat across more surface area, which is less intense on your hair. Use a diffuser on low speed and high heat while aiming it downward to keep it from ruffling the cuticle while drying.
It's also recommended to wait until your hair is about 90% dry to start blow drying it if frizz is your main concern!
Clean Up Frizz With Hairspray
If you're opting for a sleek ponytail or updo and notice that your flyaways are frizzy, all you need to fix them is hairspray. Spray your favorite hairspray on a spoolie brush or toothbrush to brush down the hairs. Garrison suggests keeping a travel-sized hairspray with you at all times to stop frizz in its tracks--just don't use a serum because it doesn't hold as well, he says.
Aquis Hair Towel Waffle Luxe ($30)
Use An Absorbent Hair Towel To Towel Dry
"After a shower, rather than wringing or rubbing, gently squeeze water out with an absorbent hair towel," Britta Cox, founder of microfiber towel brand Aquis, tells BYRDIE. "Then wrap hair up and let the hair towel absorb additional water for 10 to 15 minutes depending on the type of hair—fine hair will require less time while thick or curly hair will require more. This causes the least amount friction and allows hair to dry quickly without damaging the cuticles."
SheFinds receives commissions for purchases made through the links in this post.