You want to look svelte but the idea of eating even one more salad makes you so angry that leafy greens are your enemies. But thankfully, not every salad has to be ho-hum. "The key is including protein and fiber to keep you feeling satisfied and energized," says Wendy Kaplan, RD. The best salad bowls are filling and won't send you running for a bag of pretzels after lunch. Get creative with these six salad bowl recipes that are healthful, delicious and won't put you in a salad stupor.
[Photos: Shutterstock]
Watermelon Salad Bowl
Watermelon is hyper true to its name: it's about 92% water. Dr. Daniel Fenster, DC, of Complete Wellness NYC, says adding it to salad will help keep you hydrated. Studies show that eating foods high in water can help people feel more satisfied on fewer calories. We love how the salty feta cheese joins forces with the sweet melon in this gyro salad.
Quinoa Salad Bowl
Fiber is a salad bowl's best friend. It's truly what sets a nourishing meal apart from a heap of greens. In that case, more fiber, please. Abbey Sharp, RD, of Abbey's Kitchen loves mixing in satisfying fiber in the form of quinoa, brown rice, squash, pumpkin or sweet potatoes. Try this chili and lime flavored quinoa and sweet potato recipe.
Salad Bowl With Almonds
Crave a crunch? Instead of adding croutons or tortilla strips, try toasting some sliced, unsweetened almonds, suggests Dr. Caroline Apovian, MD, director of the Nutrition and Weight Management Center at the Boston Medical Center. The protein content in almonds contributes to satiety, helps to reduce appetite, and converts sugars into energy, preventing blood sugar crashes that can lead to overeating. Other healthy fats to use in moderation: chia seeds, flax, sunflower seeds, avocado or olive oil. We love this recipe that brings together crispy apples with crunchy almonds.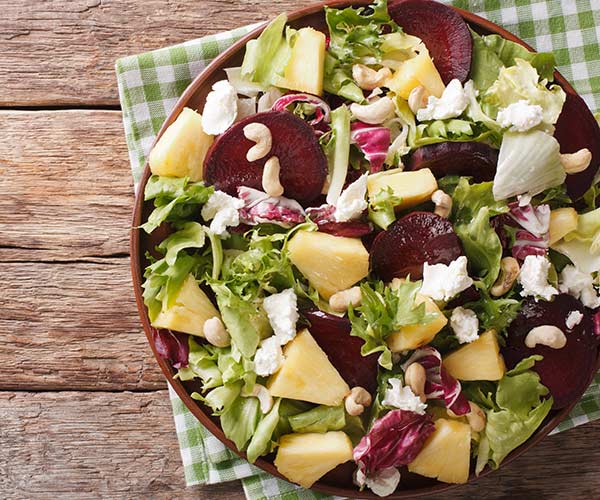 Papaya Salad Bowl
Satisfy your sweet tooth while losing weight by adding fresh fruit to your salad. There's no rule that deems all salads must be savory. Dr. Apovian has a sweet suggestion: papaya. It contains about twice the amount of vitamin C as a similar amount of oranges. "Eating a diet rich in vitamin C is associated with a faster metabolism," she says. Plus it's associated with reducing stress, a strong immune system, and younger-looking skin. We're sold. Try this shrimp and papaya salad.
Chicken Salad Bowl
Chicken again? It's easy to tire of this lean protein but you need it. Every salad bowl must be anchored by a protein to give your body the energy it needs to exercise and your mind the boost it needs to resist snacking temptations. Bacon is not that protein. Chicken is. This recipe will make you look at chicken in a whole new, tasty light.
Legumes Salad Bowl
You don't need to be a vegan to enjoy a meatless meal. Legumes are full of protein, fiber and nutrients. Plus they're inexpensive and mingle happily within many salad creations. Lentils, chickpeas, kidney beans, navy beans and black beans are all delicious choices. This recipe will change how you think about lentils – for the better.