Whether you're looking for a healthy breakfast on the go, a midday pick-me-up, or a snack for after the gym, a high-protein smoothie is a great option for anyone on a diet and trying to get rid of belly fat.
Finding nutritious snacks that won't break your goal of losing weight doesn't have to be hard. People often go wrong by focusing too much on consuming a low-calorie diet and miss out on the importance of getting protein. Especially if you're upping your fitness regime — which you should be if you're dieting — you need to make sure you're fueling your body with protein. It helps shed fat and build muscle.
Try one of these delicious high-protein smoothie recipes to get all the nutrients you need to lose belly fat!
Shutterstock
1. Healthy Peanut Butter And Jelly Smoothie
Calling all PB&J lovers: Your classic peanut butter and jelly sandwich just got a major upgrade. This recipe is sweet and rich but also great for you. It's sugar-free, low-fat, high protein, high fiber, and gluten-free. All it takes is 5 ingredients.
Calories: 260
Protein: 29 g
Recipe: Desserts With Benefits
Shutterstock
2. Peanut Butter Oatmeal Smoothie
With only four ingredients, you can whip up this smoothie in seconds on a busy morning or after a tough workout. It's loaded with creamy peanut butter, old-fashioned oats, bananas, and vanilla soy milk. While it may be a little high in calories, it's a great meal replacement for dieting. Yum!
Calories: 421
Protein: 15 g
Recipe: Chef Savvy
Shutterstock
3. Raspberry Almond Chia Smoothie
If you need a sweet breakfast to start your day off right, try this raspberry almond chic smoothie. All you need is plain Greek yogurt, almond milk, and almonds. Chia seeds are a super-food that are loaded with fiber, protein, and Omega-3's.
Calories: 421
Protein: 10 g
Recipe: Delightfule Made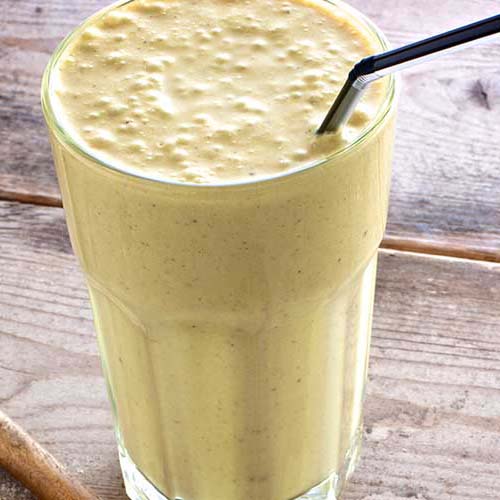 Shutterstock
4. Peach, Banana, Honey And Cottage Cheese Smoothie
Cottage cheese is a great, high-protein snack. Why not add it to a smoothie? This recipe calls for sweet peach, a creamy banana, honey, and cottage cheese. Delicious!
Recipe: Rachel Cooks