When mid-day cravings throw you off balance and make your head feel all kinds of foggy, fight back — with high-protein snacks that will increase your productivity at work.
Filling up on empty calories and refined carbs can give you a temporary sugar high, but will also send you crashing before the end of the work day. But enjoying these four protein-packed snacks mid-way between lunch and dinner has the opposite effect: these foods provide amazing nutritional benefits and are a source of slow-burning, long-lasting energy.
And if there's anything we can all use during a lengthy work day filled with meetings and duties, it's all of the energy we can get.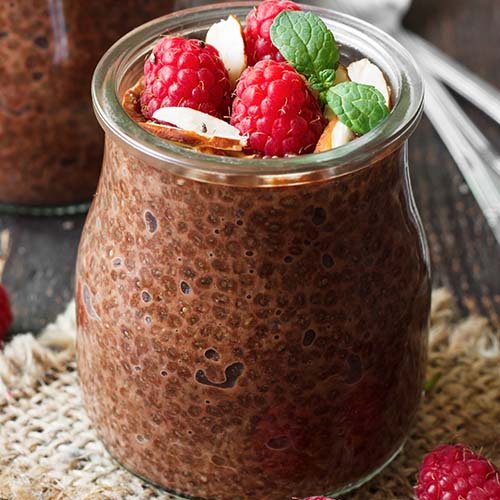 A delicious chia pudding snack packs a protein-packed punch and is both satisfying to your taste buds and a source of energy. Chia seeds contain omega-3 fatty acids, protein, and an incredible 11 grams of fiber per serving. This sweet treat helps keep your digestive tract health and has a balance of vitamins, minerals, and healthy fats. You can even make chia pudding with Greek yogurt for additional protein.
Apple Slices With Almond Butter
Cut up an apple, spread a thin layer of almond butter on top and you've just made yourself an easy high-protein snack that will curb your appetite for hours. Almond and peanut butter have similar protein and vitamin/mineral benefits, but almond butter usually has less sugar (read labels to be sure). Apples are amazing for intestinal health and digestion, which prevents you from feeling sluggish during the workday.
Nuts
The health benefits of nuts are off-the-charts impressive. They're a powerhouse of protein, vitamins and minerals like vitamin E and selenium, and healthy fats that make you feel fuller for longer. If you're putting together mini snack packs for work, the top five nuts for nutrition, according to Organic Authority, are walnuts, almonds, macadamia nuts, pecans, and hazelnuts.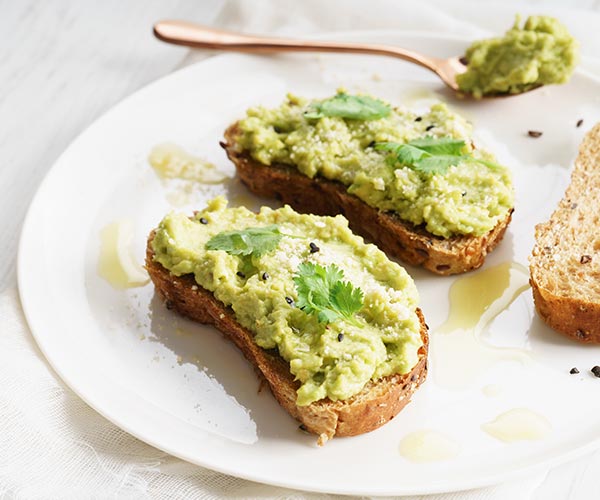 Avocado Toast
Avocado toast isn't just for breakfast. Whip up a quick avo snack with multigrain toast, half an avocado, and a little salt and black pepper — and reap the benefits of seven grams of protein, 11 grams of fiber, and magnesium.
For more tips on snacking, check out 4 Low Carb Snacks To Keep At Work and 6 Low-Calorie Snacks To Help Keep You Full Between Meals & Lose Weight on SHEFinds.com.
Photos: Shutterstock