Few makeup products can transform the appearance of your skin like a good, quality concealer. Even if you've slept a few hours at night, woke up with a massive pimple, or aren't feeling your dull, tired skin or scars that day, concealer is there to take away so-called flaws and give you back your radiant glow. It's effective all on its own, no foundation or bronzer necessary. It's also a major step in your full-coverage makeup routine if you do choose to add other skin makeup products to the mix.
The beauty possibilities with concealer are endless! You can use concealer for under-eye bags when you're lacking some shuteye. Concealer can cover zits and breakouts, and even conceal dark spots!
But for such a ubiquitous product, there's always some confusion when it comes to how to properly apply a concealer so that it looks natural and makes your skin look its best. Concealer is relatively simple and once you've mastered a few good application techniques, you'll be able to apply it in seconds.
Here's everything you need to know about concealer best practices!
The correct way to apply concealer to under-eye circles, zits, scars, and red spots:
Huda Beauty The Complexion Perfection Pre-Makeup Base Primer ($60)
Apply A Base Layer When Using Concealer For Under-Eye Circles
One of the biggest complaints about concealer used under the eyes to lighten and hide dark circles is that it often smears or settles into fine lines. The best course of action to prevent this is to apply a base layer of makeup like this hydrating primer by Huda Beauty. It makes skin smooth and preps it for concealer and foundation so that both products glide on effortlessly.
If you are planning on applying foundation, do that before concealer. This will help you use less concealer in the long run to achieve the same flawless effect. Apply concealer in the shape of an inverted triangle below your eyes. Using a concealer brush or a tool like the BeautyBlender, gently pat the concealer around your eye area until it blends in with your surrounding skin. Then apply a light layer of translucent powder to set your makeup so that it stays in place, doesn't crease, and looks great for hours.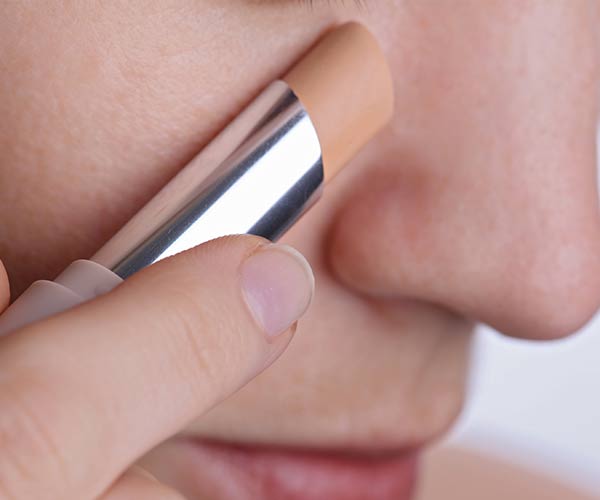 How To Apply Concealer To Hide Pimples
Pimples are always a pain and definitely not the easiest flaw to conceal. But it can be done in just minutes if you know how.
Always start with a great primer which can smooth dryness and help level a pimple's bumpy texture. Next, apply a dot of green color correcting makeup to neutralize redness. Apply concealer over the green makeup and blend it using quick, gentle patting motions with a concealer brush or makeup sponge. Finally, it helps to apply foundation over the concealer (and then blend this makeup into the rest of your face). This will hide concealer and make your skin look more natural. Always set your makeup with a translucent powder--and you're done.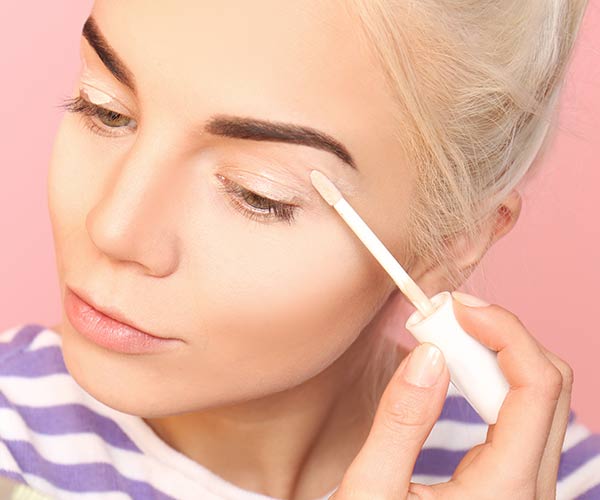 Use A Liquid Concealer To Neutralize Redness
It's totally common to have a bit of redness around and under your nose or even around your eye area. A great liquid color correcting concealer can help neutralize redness. If your skin is really red, your best bet is to start off with a light layer of green concealer before following up with a few dots of regular concealer. Blend with a brush and apply powder as a final step.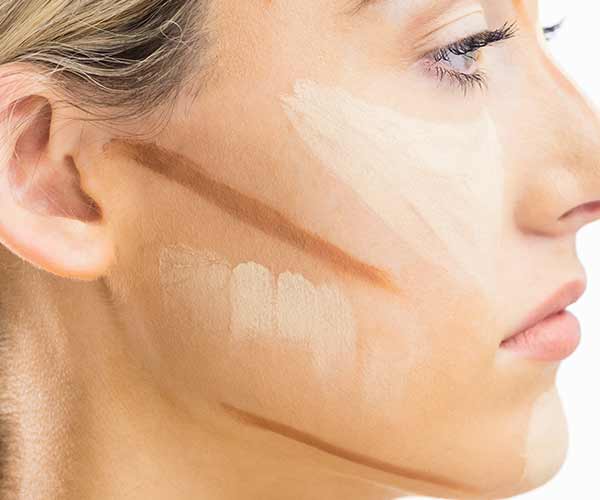 Tools Are Crucial--As Well As More Than One Concealer
Most of us find a concealer we love and stick with it, but the same concealer that works wonders on under-eye circles may not provide enough coverage to conceal raised red pimples and scars.
Invest in at least two quality concealers: a lightweight liquid concealer formula that is buildable and won't crease under the eyes, and a thicker stick concealer that can be applied to pimples and scars to really make them disappear. If you have particularly stubborn blue under-eye circles, you may even want to consider a peach-toned concealer or separate color correcting concealer palette that contains a green shade (for redness) and an orange or peach hue to combat the blue under your eyes.
You know as much as we love saving money and using our fingers to blend makeup whenever possible, using a concealer brush or BeautyBlender really does make a difference when using concealer to hide blemishes.
For more concealer tips, check out:
--The Right Way To Apply Color Correcting Concealer
--7 Concealers Every Woman Over 30 Should Be Using
SheFinds receives commissions for purchases made through the links in this post.