There are mornings when you wake up after sleeping only a few hours and you just know what's about to happen: A major headache.
Morning headaches and migraines are an unfortunate reality for a lot of people — even those of us who are serious about getting eight hours of sleep each night. You can't always prevent tension, aches, and pains, but there are a few preventative steps that are worth taking to at least try and get a handle on headaches.
If you suffer from headaches and migraines in the morning, try doing these four things right after you wake up to avoid them altogether:
Drink Water

Dehydration headaches are no joke — and the only good thing about them is that drinking water the moment you wake up can help keep them at bay.

"When the body is dehydrated, the brain can temporarily contract or shrink from fluid loss," reports Medical News Today. "This mechanism causes the brain to pull away from the skull, causing pain and resulting in a dehydration headache. Once rehydrated, the brain plumps up and returns to its normal state, relieving the headache."

Whether you like your water plain or with lemons and cucumbers, ala Khloé Kardashian, grab a glass when you wake up and rehydrate.
Eat Breakfast
You should never skip breakfast, but that advice goes double if you are prone to headaches. According to the National Headache Foundation, the "first step in the nutritional management of diet-triggered headaches is eating a well-balanced diet." And that diet should include quality protein sources at every meal. Try soft-boiled eggs, avocado, and whole-grain toast in the morning and experiment with swapping your coffee or tea with a homemade juice or more water as caffeine can be a headache trigger.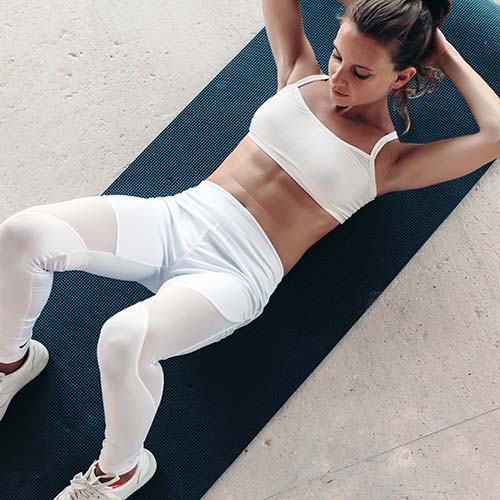 Exercise

Shifting your workout schedule from evening to morning can benefit your body in many ways, and it can even prevent headaches.

"While there is little evidence that exercise has a direct beneficial effect on headaches, there's ample data on indirect benefits of exercise, such as decreased headache frequency," Nabih Ramadan, MD, a neurologist at the Diamond Headache Clinic in Chicago, and chair of the National Headache Foundation Education and Biomedical Research Committee, tells Everyday Health. "This makes sense because healthy habits like exercise reduce stress and improve cardiovascular fitness."

If you're worried about causing a headache from too much morning exertion, try low-impact pilates, barre, or walking.
Use Lavender Oil To Alleviate Head Pain
Even if you're fully on board with over the counter pain meds, it doesn't make sense--and can be dangerous--to pop a pill before you even have pain. Lavender oil provides a natural pain-relieving alternative that's safe and can be used to help prevent headaches and migraines.

Jessica Rosen, holistic health coach and creator of Raw Generation, spoke to Coveteur about how to use lavender for headaches.

"Using lavender essential oil (on skin or in a diffuser) helps provide relief from headaches because it's anti-inflammatory, it dilates blood vessels, regulates serotonin levels, can help decrease stress and anxiety, and can help you sleep. If you're going to consume lavender orally, don't use the essential oil. Instead, boil water, add organic culinary lavender and let steep for 20 minutes. [You can also] soak your lavender in water overnight to infuse it. For external use, diffuse ten to twelve drops of lavender oil into the air, rub one drop behind your ears, back of neck, or temples, add ten drops to a warm bath, or mix two drops with your body lotion."
For more tips on headaches and migraines, check out 3 All-Natural Headache Cures That Work Almost Instantly and The One Type Of Headache You Should Never Ignore on SHEFinds.com.
Photos: Shutterstock