Busy mom JoAnna Garcia Swisher is just like you and I–she wants to entertain and spend time with family outdoors as much as possible this summer, but her backyard needed a refresh.
The actress, blogger and wife of former New York Yankee Nick Swisher is also like us, in that she can totally get carried away when shopping at HomeGoods.
Luckily, Swisher  just teamed up with the store's design team to revamp the outdoor space of her home in L.A. in a thoughtful, budget-friendly way.
The co-founder of The Happy Place and "Reba" star shares her tips for transforming any space, with a budget in mind: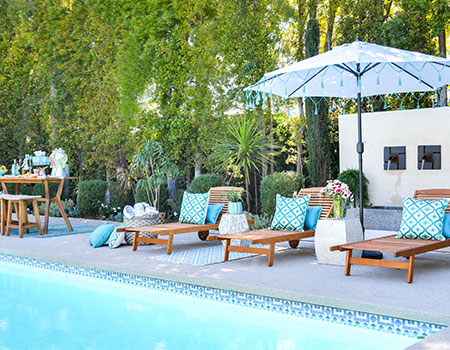 Start with smaller decor items. The easiest way to refresh your outdoor space is with smaller decor items like colorful pillows, Turkish towels and baskets, JoAnna says. "I found amazing blue, geometric patterned outdoor pillows at HomeGoods that are perfect for my teak lounge chairs. The find created a vibrant turquoise color story for my poolside oasis."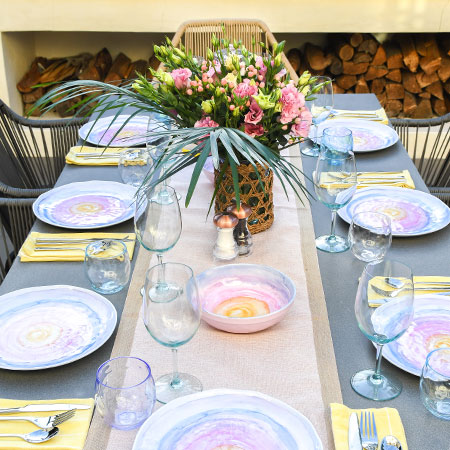 Set the table outside. "It doesn't take a lot of money or effort to create amazing moments with family and friends!" JoAnna says. Look for colorful melamine plates that look like real ceramic, JoAnna advices (her set from HomeGoods that was $9.99 for a set of 4.) "And, you don't have to worry about them breaking!"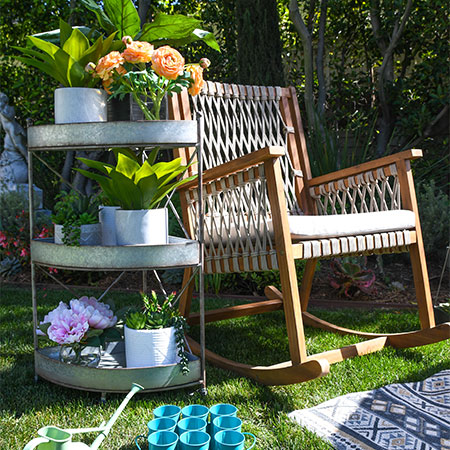 Arrange a 'gardening corner.' Garden-themed details like watering cans and planters help your outdoor space fake a garden until one actually grows. hile looking through the garden section of HomeGoods, I was thrilled to spot a yellow (my favorite color!) metal watering can. I was so inspired to garden that I grabbed a few planters! There are so many amazing planters at HomeGoods ranging in different sizes and materials like ceramic, clay, wood and even wicker!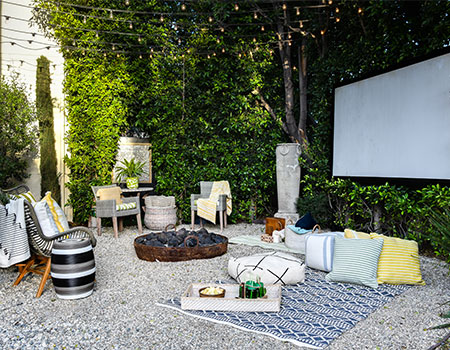 Create an outdoor entertainment area. If you have a flat yard or space, you can create a movie screening experience using just outdoor rugs and floor pillows, JoAnna says. "New rugs and a few durable, knit floor pillows and poofs are a great way to cozy up the space and add extra seating."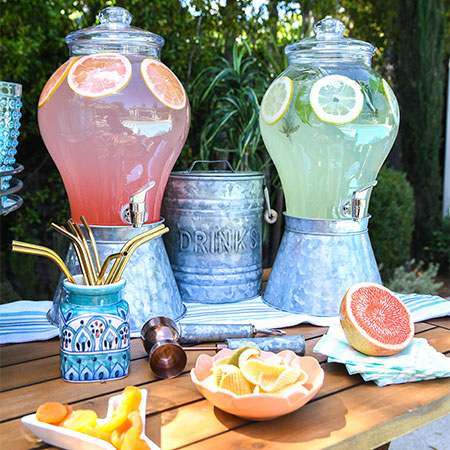 Create a bar or drink serving station. "My favorite addition to my backyard is the bar, it's perfect for entertaining and the entire 7-piece set was just $999.99," JoAnna explains. You can splurge on a set like JoAnna's, or create one up using a side table or furniture you already own. "I've turned the bar into a self-serve station with big drink dispensers that are a beautiful focal point but also super practical." Everybody loves an open bar!