With their off-the-charts nutritional content — which includes vitamins B12 and D, as well as selenium, protein, and iron — there's no doubt that eggs are one of the best foods you can eat. If you're trying to lose weight or maintain your weight, you're in for an even more amazing treat, since the average egg contains just 70 calories, five grams of fat, and six grams of protein (with a negligible number of carbs).
On their own, eggs are packed with nothing but good-for-you nutrients. But one of the best things about cooking eggs is that they pair so well with a variety of ingredients and can be prepared in so many different ways that it's impossible not to want to experiment. When you're at the grocery store stocking up for different egg meals, remember: this is the one ingredient you should avoid in your eggs if you're trying to lose weight.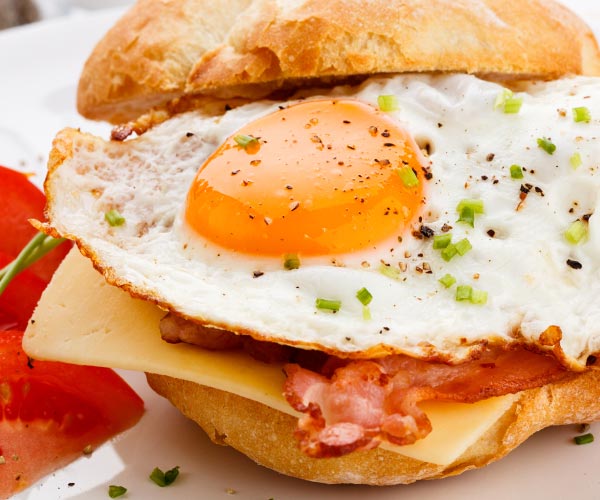 Shutterstock
It's as natural a pairing as peanut butter and jelly: frying up some bacon for your eggs tastes (and smells) amazing. And the truth is: a little bacon once in a while is probably not going to hurt you. But if you are trying to lose weight, it's important to understand the pros and cons of adding pork bacon.
Shutterstock
First, the pros (aside from its taste): about 50 percent of the fat content in bacon is of the monounsaturated variety, with a decent portion of that consisting of oleic fat — the same "heart healthy" fat you'll find in olive oil. Sounds great so far, right? Sorry to say here's where the cons come in, with this one leading the way: a whopping 40 percent of the fat in bacon is saturated, and saturated fat has been linked to greater risks of heart disease and stroke, according to Healthline.
Shutterstock
Another issue with adding bacon to your eggs is that it's a major source of cholesterol that can clog arteries and sodium, which can increase your blood pressure and retain water and excess fluid in your body. The process of making bacon involves curing or smoking it and nitrates are often added to give it a longer shelf life than regular pork. The World Health Organization has found links between nitrates and cancer — giving you another added health reason to cut down on bacon and limit it to special occasions (or kick it to the curb altogether in favor of healthier egg recipe options).
Shutterstock
A Healthier Alternative: Chicken Sausage

If you really can't kick your bacon cravings, try switching to turkey bacon, which will shave off some of that saturated fat content, while still providing a similar texture and taste as bacon. Some varieties of chicken sausage contain a fraction of the fat and calories you'll find in bacon and are a good source of protein. If you're ready to part ways with bacon, consider a link of chicken sausage instead, along with plenty of veggies like spinach and peppers to create the ultimate healthy omelette or sunnyside-up eggs platter.