Let's talk about breakfast. You may be eating a healthy breakfast every morning (good move) and you may even be eating protein-packed breakfasts that provide all of the energy you need to power you through your day.
Unfortunately, the ingredients you add to your breakfast make a huge difference in the overall health benefits you're getting.
This is the one ingredient nutritionists say you should never add to your breakfast because it causes stomach fat.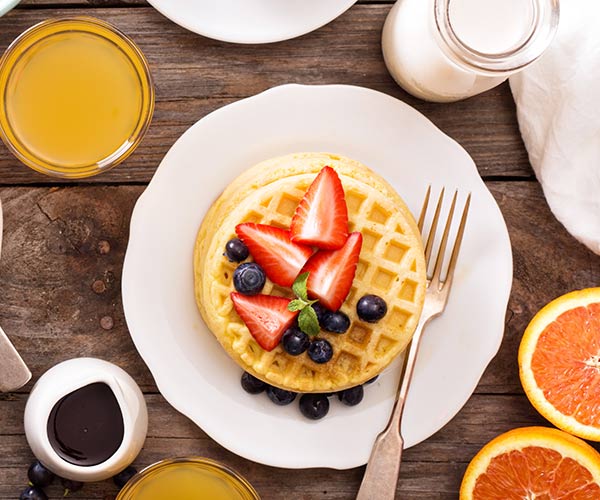 Shutterstock
Trans Fat

Trans fat is one of the worst ingredients for your heart, overall health, and weight goals. You can find trans fat, otherwise known as partially hydrogenated vegetable oil, in a number of foods, including those you may be enjoying at breakfast. Some popular examples include: margarine, non-dairy creamers, pastries, and frozen breakfast sandwiches.
Shutterstock
According to the American Heart Association: "Trans fats raise your bad (LDL) cholesterol levels and lower your good (HDL) cholesterol levels. Eating trans fats increases your risk of developing heart disease and stroke. It's also associated with a higher risk of developing type 2 diabetes."
Shutterstock
A good number of brands have stopped using trans fats in their foods, but we aren't in the clear just yet. Because trans fats are so easy and inexpensive to produce — and they also last a long time — it's tempting for brands to continue relying on them.
Shutterstock
It isn't always enough to read a food label in order to find out if your breakfast item contains trans fats. Even if a product contains between 0 to 0.5 grams of trans fat per serving, it can slap on a "0 grams of trans fats" label.

It's more important to read the ingredients list and see if "partially hydrogenated oils" appears anywhere, according to the AHA.
Shutterstock
If you're used to spreading margarine on your toast, it's worth noting that the more solid the margarine, the more trans fat is likely contains. Tub margarines are always a better bet.
Shutterstock
The best way to ensure you aren't adding trans fat to your diet is to stay away from margarine completely, as well as pre-prepared breakfast sandwiches and buttery pastries.