If you're a big fan of smoothies, which can help you load up on vitamins, minerals, and protein in one glass, then you're probably always searching for new ingredients to add to your blender. While you're incorporating fruits like blueberries and bananas, veggies like kale, and even extra sources of protein like a scoop of sugar-free whey protein powder, don't forget there is a universe of seeds and nuts that are incredibly nutritious and make for incredible smoothie additives.
This is the one ingredient you need to start adding to your smoothies if you want a flat stomach, according to nutritionists.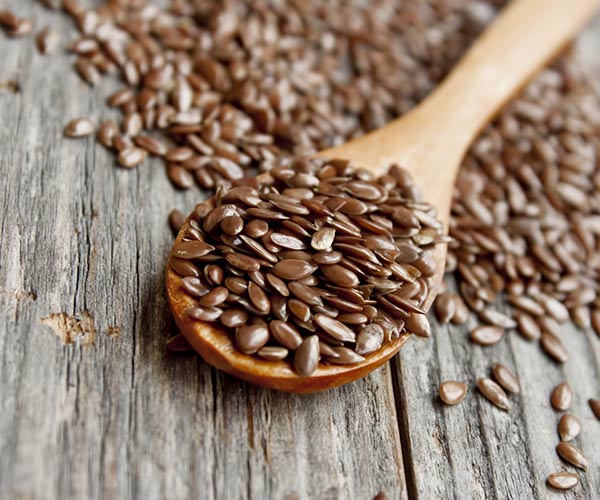 Shutterstock
Flax Seeds

They may not be as well known as sunflower seeds, but flax is a seed that comes from a flowering plant and is rich in omega-3 fatty acids, fiber, and an important antioxidant called lignans. And it's these anti-inflammatory lignans that may be responsible for more effective weight loss.

In one study, participants who were given flax powder showed a decrease in inflammation markers (and even in cholesterol levels). And because inflammation is linked to belly fat, it's easy to see why this is a positive step forward if you're trying to reduce fat around your midsection.
Shutterstock
Flax comes in a variety of forms including pills, seeds, powder, and even flax milk. But if you really want to get the most out of flax in your smoothie and make the experience of whipping up flax in your blender a lot easier, flaxseed meal is the way to go, Ella Magers, author of The Six Weeks to Sexy Abs Meal Plan cookbook and founder of Sexy Fit Vegan told Today.

This is better than straight flax seeds because it's ground up and easier for the body to digest," said Magers. "Adding a tablespoon to a smoothie thickens it up and also adds fiber, protein and omega 3s. Flax meal is also a great egg replacement in baked goods: just add some water and whisk together to create a gel-like consistency."
Shutterstock
You don't need a lot of flax to make an impact on your diet and help reduce inflammation and belly fat. Just one tablespoon of flax contains 3 grams of polyunsaturated fat (the good fat), 2.8 grams of fiber, 1.9 grams of protein, and magnesium, iron, and even calcium.
Shutterstock
So, what's the deal with flaxseed milk?

If you prefer to add a liquid other than water to your smoothies and would rather opt for a plant-based milk instead of dairy, flaxseed milk is a great source of minerals and vitamins, antioxidants, and fiber. You can even make your own homemade flax seed milk using just two ingredients: flax seeds and water.

But be careful and speak to your doctor if you are pregnant or breastfeeding as flax can cause hormonal changes and isn't usually recommended during these times.