It's time to break out those "Team Jen" and "Team Angie" shirts because it looks like this feud could be heating up again! Jennifer Aniston and Angelina Jolie will both be presenting at the 2018 Golden Globe Awards on Jan. 7 and everyone is freaking out. Will there be an awkward run-in? A fight? We're not sure how the evening will unfold, but it looks like Jolie is ready to take the high road if anything happens.
[Photos: Splash]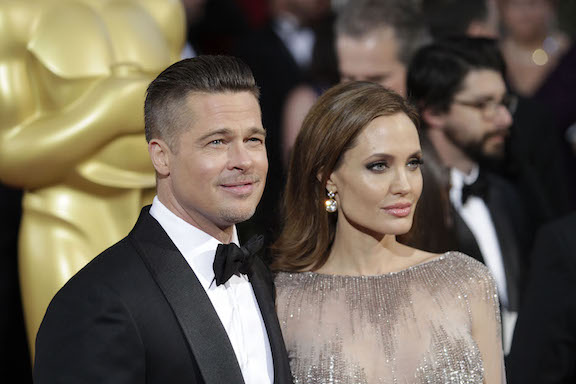 "Angelina is aware that Jennifer's going to be presenting at the Globes too," an insider told Hollywood Life. "It's not a shock. She had the option to back out but she chose not to — she doesn't feel the need to shy away from Jennifer. But don't expect her to make any sort of scene. The last thing she wants is some epic World War 3 with Brad's ex at the Golden Globes."
After all, this is a momentous night for women in Hollywood. In addition to wearing black on the red carpet, several of the industry's leading ladies have come together to create the Time's Up campaign in light of the recent sexual harassment and abuse revelations in Hollywood. "They're standing in solidarity and donating money to those who don't have their resources to combat misconduct from employers," according to Hollywood Life. And, both Aniston and Jolie will be a part of this movement.
Still, we can't help but wonder what would happen if the two did bump into each other. We know that they would both have a lot to say about their shared ex Brad Pitt...
Do you think Jen & Angie have buried the hatchet? Let us know your thoughts in the comments below!