We didn't see this one coming! Jennifer Aniston and Justin Theroux announced that they have separated after less than three years of marriage. The couple released a joint statement that shocked fans, stating that the "decision was mutual and lovingly made at the end of last year."
"In an effort to reduce any further speculation, we have decided to announce our separation. This decision was mutual and lovingly made at the end of last year. We are two best friends who have decided to part ways as a couple, but look forward to continuing our cherished friendship," the statement read.
Aniston and Theroux always seemed like the perfect couple, but now sources are revealing that there was always something keeping them apart during their marriage. There are also rumors that Aniston's ex Brad Pitt, who is recently single, may also have played a part in their split.
"Jennifer and Justin fell in love hard and fast and yet they were never really suited to one another. He was a New York hipster that loved the alternative lifestyle and Jennifer was living a much more reclusive life when they first started to fall in love," a source shared with E! News. "The initial chemistry between them made it easy for them to ignore their differences and incompatibility."
Theroux also had a hard time adjusting to being in the spotlight now that he was dating such a high-profile person like Aniston. "Instead of walking around the streets of major cities without being bothered, the actor found the paparazzi following his every move. The photographers were especially present when he spent time in Los Angeles with Jennifer," according to E! News' Melanie Bromley and Mike Vulpo.
"He absolutely hated it at first," the source continued. "But he fell in love with Jennifer so it was something he came to accept. But everyone around him knew it wasn't really who he was. They have always just been two very different people with very different characters who just happened to fall in love. He's more nomadic, more of a free spirit, he's rugged and urban and Jennifer just isn't that kind of person."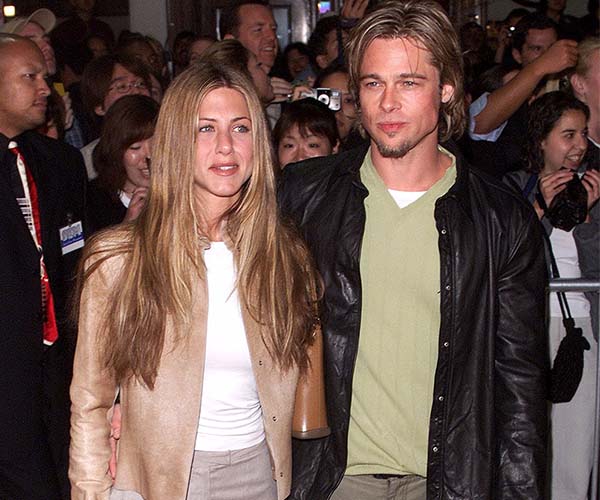 Now, the media is speculating that Aniston might be seeking solace from Pitt. It was rumored that the actor introduced Aniston to his children earlier this month, according to Ok! Magazine. The outlet reported that Aniston dropped by to give him a book on interior design and "Brad casually introduced [the kids] to her as they played."
This definitely seems like a rumor to us, but we can't help but wonder what a 2018 Brad and Jen would be like! Unfortunately, a source close to Pitt says that we shouldn't get our hopes up for a reunion.
"Brad knows it's difficult for anyone when they go through a separation, but he's not happy that his name will be linked with hers again in all the coverage of Jen's separation," an insider told Hollywood Life. "He'd love to be far removed from it, but he knows he will be in the center of the tornado and he will do his best to avoid it and not address it. But he also knows that will be impossible. He just wants to get back to a normal for him life and he knows that with the separation on everyone's mind and the connection people are making with him that it won't happen anytime soon."
Are you sad that Jennifer and Justin split? Do you think there's a chance that she could get back together with Brad? Let us know in the comments below!
[Photos: Splash]