2018 has been a monumental year for Jennifer Garner. The star recently finalized her divorce with Ben Affleck last week and has played an instrumental role in helping him with his sobriety. In addition to navigating co-parenting with her ex, Garner has also made major professional strides this year as well. She's been starring in plenty of films and she's set to make her big return to T.V. this month with HBO's Camping.
Back to her personal life for a second—it looks like Garner's also got a new man in her life, too! Reports say that the actress is allegedly dating her Camping co-star Arturo Del Puerto!
Here's everything we know so far:
Splash
"They began as friends, but it turned into something more," a source recently revealed to OK! Magazine, who broke the story. "It was clear to everyone on-set that the sparks were there."
The insider says that the two actors are only in the beginning phases of their relationship and that this isn't a full-fledged romance just yet. Though the source predicts Garner and Del Puerto might confirm their relationship status soon, they said that the two have been having fun keeping their romance private.
"[They] send each other love notes during the day. She can't stop smiling when she talks about him," the source continued. "[They] spend a few evenings together every week."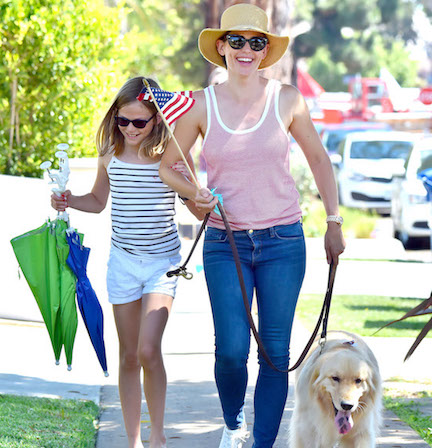 Splash
It turns out that Del Puerto is great with kids, too! We're not sure if Garner, who is mom to Violet, 12, Seraphina, 9, and Samuel, 6, has introduced her children to Del Puerto yet, but the source thinks that he would be great with them.
"He's funny, talented, and has a big heart," the insider said. "He's also wonderful with kids, which is obviously important to her since she has three of them!"
Splash
Could this relationship be the real deal? We hope so! The source says that Del Puerto has gotten the stamp of approval from Garner's friends and that they've been encouraging her to take it to the next step.
"She's been so patient dealing with Ben's issues, it's great to see her with someone who treats her so well," the source shared. "Her friends are encouraging her to go for it. It's been so long since she had a real relationship — and this one could go the distance!"
Splash
Do you think Jen & Arturo make a cute couple? Let us know in the comments below!