Kate Middleton made headlines when she revealed she was expecting her third child with Prince William back in Sept. Now, the Duchess of Cambridge is starting a whole new frenzy after attending her first event since announcing her pregnancy. And, we finally got a look at her baby bump!
[Photos: Splash]
OMG! Look at the bump! She made her royal baby bump debut on Wed. at an event in Buckingham Palace. Middleton wore a gorgeous blue lace dress and looked absolutely stunning. Is it just us or is she glowing?
[Photos: Instagram]
Middleton accompanied Prince William at a World Mental Health Day reception at Buckingham Palace, according to Hollywood Life. The event honored those working in the mental health field and helped raise awareness for the Heads Together Campaign, which works to erase the stigma surrounding mental illness.
Not only did this occassion mark Middleton's first baby bump pic, but it's also the first time the royal has made a public appearance since revealing that she is battling hyeremesis gravidarium, a condition that causes severe morning sickness, nausea and dehydration. "The Duchess' condition is improving, but she is still suffering from Hyeremesis Gravidarium," a palace aide explained at the event. "She is delighted to be able to be here tonight."
[Photo: Instagram]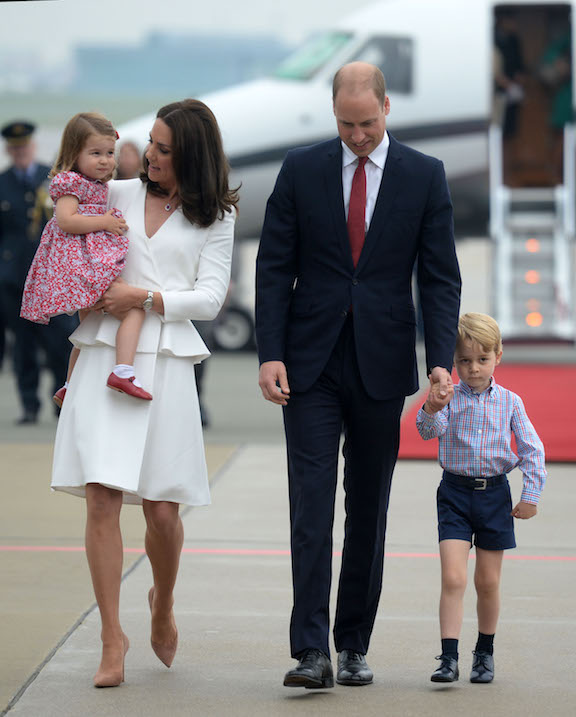 We're happy to see that Kate is feeling better and that she's looking happy and healthy!
We can't wait to learn more deets about royal baby number three. Let us know in the comments below if you're hoping William and Kate have a baby boy or a baby girl!