Kylie Jenner and the Kardashian family have been keeping their mouths shut about her alleged pregnancy, but THIS new clue definitely proves that she is! The 20-year-old rumored mom-to-be just had a CRIB delivered to her home, giving us all the proof and confirmation we've been waiting for!
[Photos: Splash]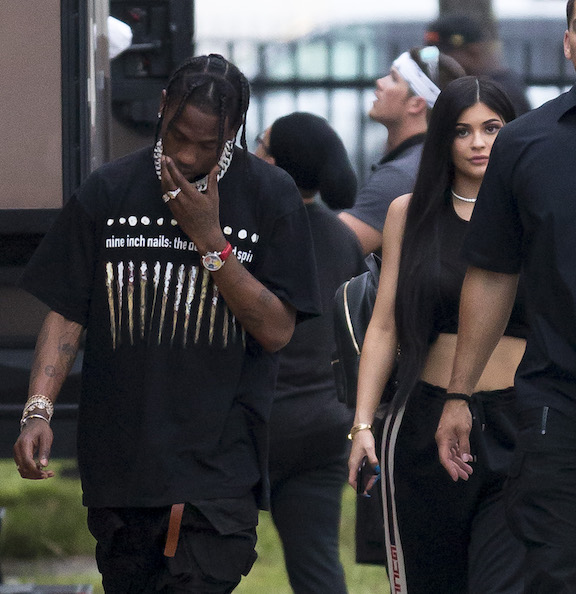 According to Daily Mail, paparazzi caught delivery men assembling a large white crib outside of her home on Tuesday. "Three people were seen working on putting together the crib in front of her garage while two men from her security team stood nearby," the outlet reported.
See the picture for yourself HERE!
Though Jenner has yet to reveal that she's pregnant, mom Kris Jenner alluded to it on Sunday's episode of Keeping Up With The Kardashians. She revealed that one of Kylie's staff members was trying to take photos of her at home, which fans believe was being done to snap pictures of her growing baby bump. "I really feel bad for Kylie because there's always somebody that's trying to exploit a certain situation," Kris said to the cameras. "To have somebody in her own home trying to snap pictures they shouldn't be snapping is really, really stressful. You want to be able to trust the people that you're surrounded by, but we have to really be on alert at all time, and that's extremely upsetting when you feel like you can't be in your own bedroom or bathroom."
If the rumors are true, Jenner is expected to give birth to a baby girl in March. There have even been more rumors that the Kylie Cosmetics founder is planning to have a home birth to avoid the paparazzi. But, we'll have to wait and see what happens!
When do you think Kylie will confirm her pregnancy? Let us know your thoughts in the comments below!