Kylie Jenner and Travis Scott seem to be happy in love, and some fans think that the couple is MARRIED!
Here's what's going on:
Instagram/@kyliejenner
Jenner posted an image of herself with Scott on Instagram. This may seem like an ordinary picture of the couple at first but Jenner added an engagement ring emoji, stirring engagement and marriage rumors.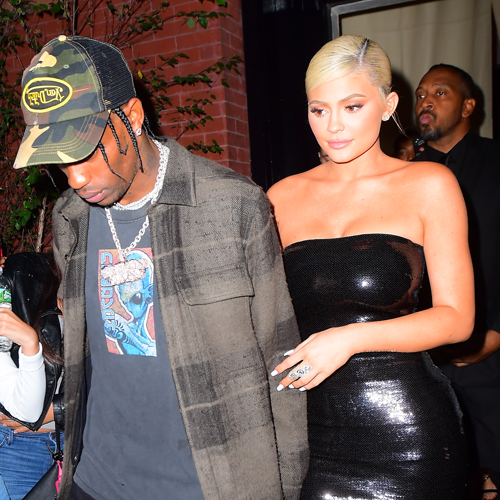 Splash
Fans took to Twitter to address the rumors, asking Jenner if she was in fact married to the rapper.
"I swearrrrrr Kylie & Travis got married on the sneak @KylieJenner @trvisXX," one tweeted.
"So Kylie & Travis are married?," another wrote.
Are they actually married?! We're not sure! Entertainment Tonight reporter Lauren Zima tried to get Jenner's older sister Kim Kardashian to chime in on the rumors at a recent event, but it seems Kardashian is out of the loop, too.
When asked if Jenner and Scott are married, Kardashian responded, "You know, I literally need to ask her. That is my next question on our group chat. We were chatting on the way over here."
Zima noted that Jenner and Scott often refer to each other as "wifey" and "hubby" on social media and asked Kardashian if that was their way of telling the world
"I think we just all think that's what they call each other," Kardashian continued. "But I have no idea—I'm just like you guys—I'll find out. I don't know if I'll share the news with you guys, but I'll have to ask myself."
Do you think Kylie and Travis are married? Let us know in the comments below!