Kylie Jenner is always making headlines for something these days. Several media outlets have reported that the 22-year-old is planning on marrying her longtime boyfriend, Travis Scott, after some eagle-eyed paparazzi noticed that she had purchased a wedding dress.
TMZ cameramen saw a man holding a white feathery gown and a suit while the couple boarded their private jet last week. They were headed to Italy to ring in Jenner's 22nd birthday and sources say that the dress she packed was in fact a wedding dress. A source told Women's Wear Daily that the garment bag contained an Oscar de la Renta's Spring 2020 bridal collection and that Jenner wanted it for a "special occasion."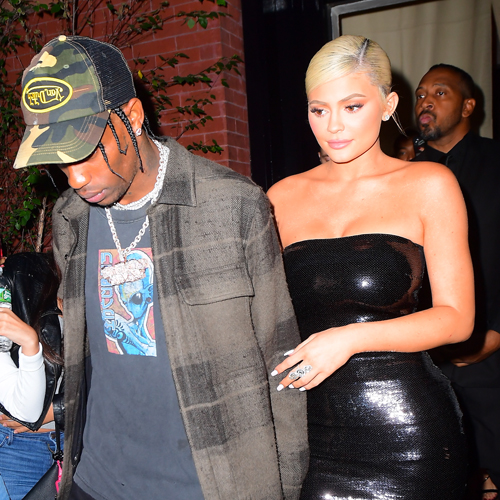 Splash
Jenner and Scott have been going strong since April 2017, so getting married doesn't seem totally out of the blue. Unfortunately, another source confirmed that wedding bells aren't in the near future for the new parents.
"Kylie Jenner and Travis Scott still have no plans to get married," the insider told Hollywood Life, who stressed that their Italian vacation was strictly to celebrate Jenner's birthday and not for a wedding. "They've made it clear they're committed to one another and really happy with what they have and where things are between them."
As for the dress, Jenner rocked the designer dress on her actual birthday. She even shared a video of herself wearing it on Instagram, where she can be seen singing "Happy Birthday" with her daughter, Stormi, 1.
Splash
The second source also said that Jenner would rather have another baby before getting married to Scott. From the sounds of it, the Keeping Up with the Kardashians star might already be planning for baby number two.
"She knows she's so young and still would like to have another baby and doesn't need to be married to do that. The baby will still absolutely come first," the insider continued.
Splash
Did you think that Kylie and Travis were getting married this month? When do you think they'll have another baby? Let us know in the comments below!