While it's true that every makeup product presents its own challenges–let's be honest, it can take years to master liquid eyeliner, there's one cosmetic that has the power to make or break your look: Foundation. Sounds pretty dramatic, we know, but if you consider how important radiant and healthy looking skin is to any makeup look, it makes sense that this is one product you'll want to get right each and every time.
Even before you bring your new favorite foundation home, there are problems you'll encounter at the store. With so many formulas to choose from, it's important to figure out which foundation type works best for your skin type and needs. Next, comes the ever-important job of selecting one of a billion shades that blend seamlessly into your skin. And then once you score a great foundation and bring it home, well, that's when the real work begins—how do you apply this stuff so that it looks totally natural, anyway?
These five life-changing foundation tricks will make the process of finding and applying a foundation a breeze: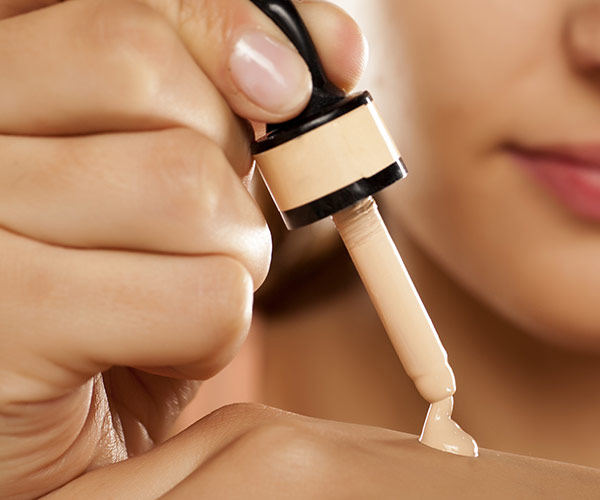 Choose Your Foundation Type Based On Your Skin Type
You may prefer a liquid foundation (or a powder or cream), but that doesn't necessarily mean your foundation loves you back. Before investing in a brand and type, consider your skin type — are you on the dry side? Combination skin? Oily and prone to acne? Here are foundation types that work for your specific skin type:
Dry Skin — Use a liquid foundation that is moisturizing (not matte) with a satin finish. Creamy stick foundations and cream-to-powder foundations are also ideal for you.
Oily Skin — Matte liquid foundations that soak up excess sebum are your best bet, though cream-to-powder formulas can also work because they won't clump up like powder foundation can on your skin.
Combination Skin — Try a tinted BB Cream that is neither too drying, nor too heavy. If you are using a mattifying liquid foundation, be sure to only apply it to your T-zone and use a different, more hydrating formula for your cheeks, which can get flaky fast.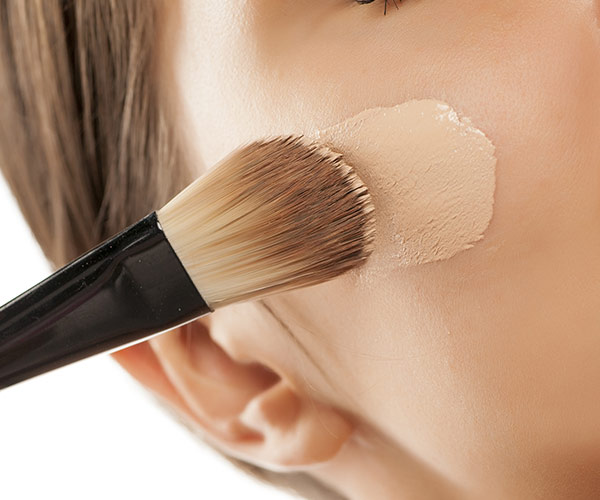 Sample Foundation On Your Face Or Chest To Find The Right Shade
Some of us are so used to trying makeup out on the backs of our hands or wrists that we assume we can treat foundation the same way we do lipstick. But our hands and arms are rarely the same color as our faces and the results on these areas of your body can be misleading.
A better way to find your exact shade is by choosing two to three foundation shades that are close to your natural skin tone and applying them to your jawline (or the top of your chest if you're worried about sampling makeup on your face). Then —and this step is crucial— blend. The shade that vanishes into your skin is the winner.
Apply Concealer Before Foundation
There's a misconception that foundation can do it all—especially when it comes to hiding any issues on your skin that you want to conceal. But, no one product is a miracle worker and starting with concealer is the trick to getting flawless-looking skin every time.
Before you apply foundation, start with clean skin that has been moisturized (hydrated skin means fewer flakes that become even more apparent under foundation). Next, apply concealer to spots that need it—under your eyes, around your nose, directly on blemishes—and relieve redness with a green correcting concealer. Now it's time to apply foundation and set it with a dusting of powder or a makeup finishing spray.
Use A Foundation Primer
Huda Beauty The Complexion Perfection Pre-Makeup Base Primer ($35)
The difference between using a pre-makeup base before foundation and applying foundation to a completely bare face is sort of like going for a run after eating steel-cut oats and running on empty – seriously, a quality base is that amazing. This makeup base, which can also be worn solo on days when you want to wipe away shine and look radiant, makes your skin so smooth that your foundation literally glides right on and sets better. It's hydrating and creamy, but also lightweight — and it makes your pores pretty much disappear.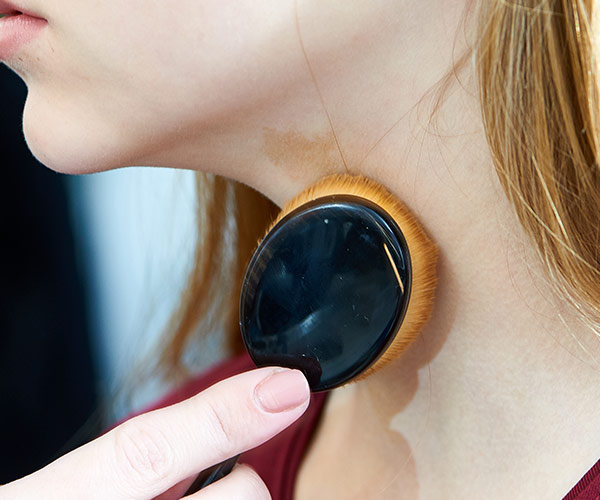 Do NOT Forget Your Neck
The number one way to ensure everybody sees your foundation and not your gorgeous skin is by neglecting to apply foundation to your neck. Using a foundation brush or sponge, be sure to drag foundation down from your jawline so that you adequately cover your neck and décolleté if you're wearing a low-cut top.
For more foundation tips, check out 5 Foundations that actually make your skin better and 4 foundations for mature skin are amazing and affordable on SHEFinds.com!
[Photos: Shutterstock]
SheFinds receives commissions for purchases made through the links in this post.