If you're trying to lose weight but keep dreaming of the sweetest treats you can find, the best thing you can do is give into temptation once in a while.
Does that mean you should have the most decadent German chocolate cake each night after dinner? Probably not. But depriving yourself of all goodies is only going to make those cravings stronger.
The next time your sweet tooth threatens to take over your life, indulge it with this one low-calorie dessert that won't slow your weight loss.
Shutterstock
Sorbet
Ice cream is one of life's greatest temptations. But if you are trying to lose weight, the combination of milk, cream, and sugar isn't always the best choice. One half cup of vanilla ice-cream can pack in an average of 140 calories, 7 grams of fat, and 16 grams of carbohydrates, most of which is refined sugar.

Sorbet, which is usually touted as a sweet, dairy-free alternative to ice cream, is often made up of fruit juice, syrup, and water and, while lower in or completely free of saturated fat, can actually have more sugar than ice cream.
"Sorbet is a simple dessert made from water, sugar and usually fruit juice or whole fruit," registered dietitian Julie Upton wrote in a Huffington Post blog. "It's often rich in added sugars, which means it's not always a calorie bargain compared to ice cream. In fact, many sorbets have 150 calories per half-cup serving, so it's important to look at the calorie counts when choosing a sorbet. You can also make your own sorbets using summer's sweet fruits, like mangoes and peaches."

But that doesn't mean you should count out sorbet completely. Depending on how you make this treat at home (because, believe it or not, it's relatively simple to whip up) or which brands you purchase at the store, sorbet can be the low-calorie dessert that keeps you on a straight path towards your weight loss goals.
Shutterstock

The trick to keeping homemade sorbets low in calories is to stick to fresh fruit and cut down on the amount of sugar you use as much as possible. This lower sugar blackberry sorbet relies on just four ingredients:

Fresh blackberries
Water
Lemon juice
Cane Sugar
Shutterstock

What's even simpler than a four-ingredient sorbet recipe? This two-ingredient mango sorbet recipe that requires nothing more than two mangoes, coconut milk, five minutes of prep time and a few hours in the freezer. Mangoes can lower cholesterol levels, lower your risk of cancer, and even help clear up your skin — and eliminating sugar from this recipe allows their natural taste to take centerstage.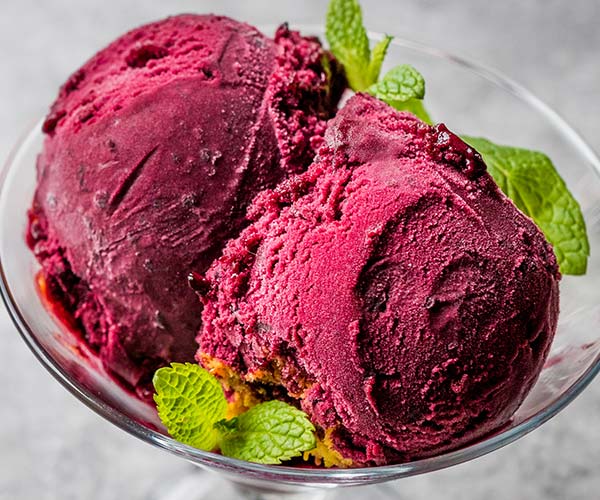 Shutterstock
This easy raspberry sorbet recipe makes good uses of four ingredients and substitutes cane sugar for anti-inflammatory honey — a bonus. Here's what you'll need:
Raspberries
Raw honey
Lemon Juice
Warm water