2019 is in full swing and that means it's time to get serious about your fitness goals. For most people, meal prep is the area of dieting that needs fine-tuning, which is why experts recommend mapping out your meals for the week and enlisting the help of an Instant Pot to make healthy cooking easier.
Need some new recipes to go with your new Instant Pot? Here are some of our editors' favorite low-carb recipes that are packed with nutrient-rich fruits, vegetables, proteins, and spices that not only aid in boosting the metabolism and burning calories, but also gives you the fiber and protein needed to stay full and satisfied longer.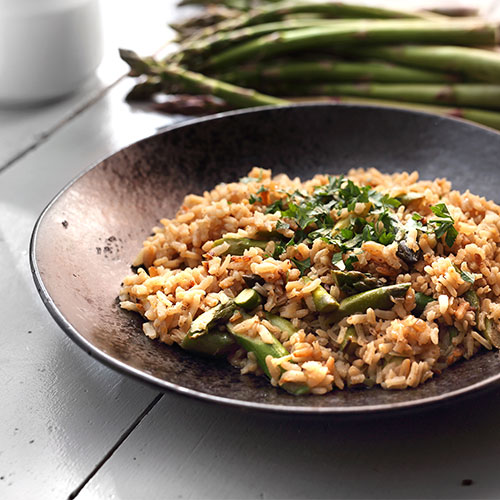 Shutterstock
Instant Pot Lemon-Vegetable Risotto
This tasty lemony risotto gets its metabolism-boosting properties from healthy veggies like broccoli, peas, onion, leeks, spinach, and more.
Ingredients:
1 bunch asparagus, sliced thin
1 cup broccoli florets
1 cup fresh peas or snap peas
2 tablespoons and 1 teaspoon extra-virgin olive oil
1 onion, diced
1 cup leek, diced
2 garlic cloves, minced
1 teaspoon fresh thyme
1 1/2 cups arborio rice
4 cups vegetable broth
4 tablespoons butter
1 cup spinach
1/2 bunch chives, sliced thin
1/2 teaspoon garlic powder
1/4 teaspoon red pepper flakes, more to taste
1 teaspoon lemon zest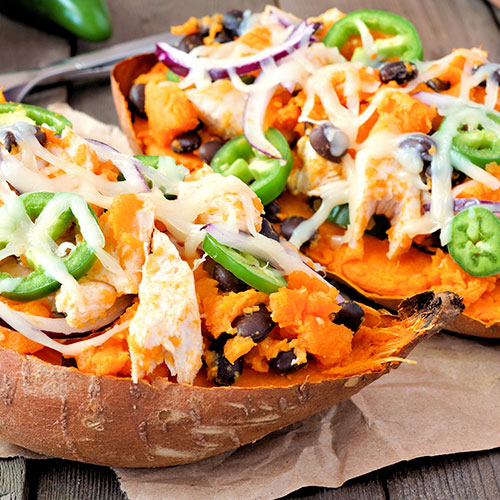 Shutterstock
Instant Pot Chipotle Chicken Bowls
This chipotle chicken bowl recipe is easy to make and features some of the healthiest ingredients out there: quinoa and chicken. When combined, your body has everything it needs to stay full, focused, and satisfied.
Ingredients:
For the chipotle chicken:
1/2 teaspoon kosher salt
1/2 teaspoon ground cumin
black pepper, to taste
1 tablespoon chipotle paste
1 cup prepared mild salsa
1 pound boneless, skinless chicken thighs
2 ears corn, husks removed

For the quinoa:
3/4 cup uncooked quinoa, rinsed and drained
1 cup plus 2 tablespoons water
1/4 teaspoon kosher salt
1 lime, juiced
1/2 tablespoon olive oil
2 tablespoons chopped cilantro

For the bowls:
1 cup halved cherry tomatoes
4 oz (1 small) Haas avocado, sliced
4 lime wedges
2 tablespoons chopped cilantro
Shutterstock
Mexican Chicken Stuffed Sweet Potatoes
Sweet potatoes are loaded with plenty of healthy nutrients and makes for a great base for any weight loss meals. Make the delicious Mexican chicken stuffing for them in your instant pot and have dinner ready in under an hour.
Ingredients:
For the sweet potatoes
4 medium sweet potatoes , scrubbed
1 1/2 cups water

For the chicken
2 chicken breasts
1 10-oz. can tomatoes with green chiles , undrained, any variety
1 tablespoon taco seasoning
For the Avocado-Jalapeño Sauce
1 avocado , peeled and seeded
1 jalapeño , stemmed
1/2 cup fresh cilantro leaves
1/2 cup water
2 cloves garlic
2 teaspoons white vinegar
1/2 teaspoon salt

For the quacamole
2 avocados
1/4 cup avocado-jalapeño sauce
salt

For the garnishes
jalapeños , sliced thin
fresh cilantro
salsa or more tomatoes with green chiles , drained, or
red onion, chopped
Shutterstock
Butternut Squash and Turkey Chili
Loaded with healthy vegetables like squash and kale, this soup is an excellent source of fiber, vitamins, and minerals. Ground turkey is also one of the best foods for weight loss because of how lean it is.
Ingredients:
1/2 tablespoon olive oil
1 medium onion, diced
4 large garlic cloves, minced
2 teaspoons ground turmeric
1 teaspoon ground cumin
1 teaspoon chili powder
1/4 teaspoon cayenne pepper
1/4 teaspoon cinnamon
1 teaspoon sea salt
1/2 teaspoon ground black pepper, to taste
1 lb ground turkey
1 medium butternut squash, peeled, seeded and chopped (about 5 cups)
4 cups low-sodium vegetable broth
1 – 14 oz can diced tomatoes
1 – 14 oz can light coconut milk
1/2 cup dried red lentils, rinsed
3 tablespoons tomato paste
2-3 teaspoons apple cider vinegar
1-2 cups chopped kale or spinach
chopped cilantro and sliced green onions, for garnish
cooked brown rice or quinoa (optional)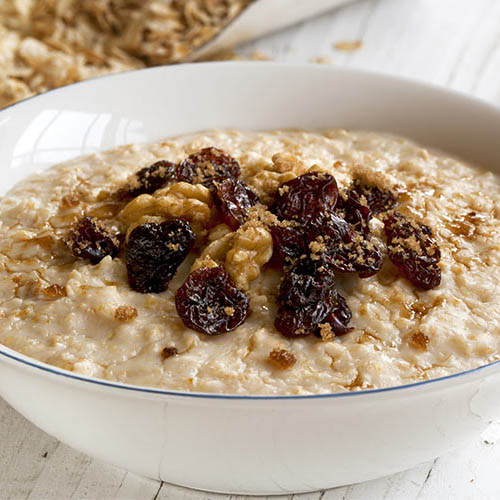 Shutterstock
Instant Pot Sweet Potato Steel Cut Oats
You can't forget about breakfast--it is the most important meal of the day, after all! This low-carb oatmeal recipe will give your metabolism the fuel it needs to burn calories efficiently while also keeping you energized all day long.
Ingredients:
85g (1/2 cup) steel cut oats
135g (1 cup) chopped sweet potato
20g (2 tablespoons) golden raisins
325mg (1 1/3 cup) water
1/2 teaspoon vanilla extract
1/2 teaspoon cinnamon
1/4 teaspoon cardamom
1/8 teaspoon ginger
generous pinch kosher salt
1/4 cup almond/coconut milk (or any milk)