We're sure lululemon has already secured a spot in your closet thanks to its super comfortable and exceptionally-designed leggings, sports bras, and activewear. Now, it's coming for your beauty cabinet with its new line of self-care products.
What's In The Lululemon Selfcare Line?
With lululemon Selfcare, the brand put its innovative spin on post-workout essentials like deodorant and dry shampoo to ensure that you're feeling fresh after your sweat sesh. The athletic retailer's debut line features five gender-neutral products designed with athletes in mind including a lip balm, dry shampoo, two spray-on deodorants, and facial moisturizer. True to the retailer's commitment to sustainability, all the formulas are free of aluminum, parabens, and sulfates.
"Over the years, we've heard the feedback that transitioning from sweat to life isn't always easy. lululemon has always been in the work of creating solutions for sweaty problems and our Selfcare line is an extension of that approach," lululemon chief product officer Sun Choe says. "Like our apparel, lululemon Selfcare has been designed with function at its core and created to support guests pre and post workout."
Here's the best part–all of the products are engineered for on-the-go use with leakproof seals and lock-tops so dreaded gym-bag spills can be a thing of the past. The line will be sold online at lululemon.com, in 50 lululemon stores, at select studio partners in North America, and on Sephora.com.
Shop The Lululemon Selfcare Range Now:
Keep scrolling to shop your gym bag's new BFFs and learn more about the products featured in lululemon Selfcare:
Lululemon No Show Dry Shampoo ($18)
Dry shampoo is perhaps the holy grail of post-workout necessities. Lululemon created this aluminum-free, non-whitening formula to absorb sweat, dirt, and oil from the hair on mornings where you just don't have time for a full-cleanse. The lightweight dry shampoo sprays on invisible, so it's a safe option for those with hair on the darker side.
Formulated with algae to control oil production, Tapioca Starch to absorb it, and argan oil to smooth frizz while keeping hair soft, this dry shampoo pretty much does it all.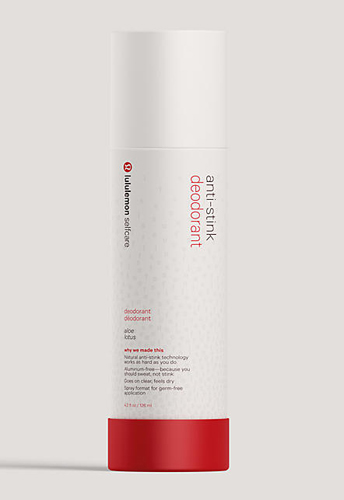 Lululemon Anti-Stink Deodorant in Aloe Lotus ($12)
With more and more coming out about the harmful effects of aluminum deodorant, it makes sense that Lululemon would launch a safe alternative. The cooling spray-on deodorant refreshes and keeps less-than-stellar smells at bay by putting natural odor-absorbing zinc to work. You can stay cool, calm, and collected with either the full-size spray ($18) or the travel size option ($12).
READ MORE: Glossier's Brow Flick Is Here To Seriously Upgrade Your Brow Game
Lululemon Anti Stink Deodorant in Black Pepper Sandalwood ($12)
To use the deodorant simply shake the can, hold 6-8 inches away from your skin, spray until your armpit is covered, and then get your sweat on! The spray-on design prevents bacteria from growing upon reapplication, which is pretty cool (pun intended).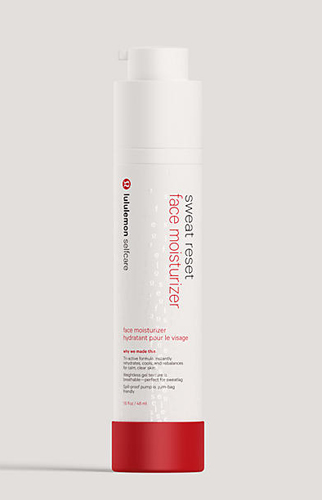 Lululemon Sweat Reset Face Moisturizer ($28)
There's nothing quite like that post-workout glow, but sometimes it can get out of control. Lululemon created its Sweat Reset Face Moisturizer to help clean, calm, and hydrate skin back to its pre-sweat tone and complexion.
Calming algae and menthyl pair with a high-performance moisturizing molecule for instant hydration and a breathable formula. You can grab a full size for $48 or travel size for $28!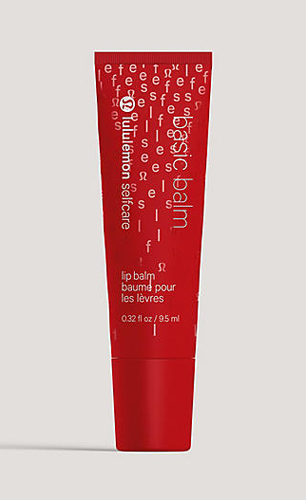 Lululemon Basic Balm ($14)
An essential in your gym bag arsenal, this balm was created to lock in moisture before, during, and after workouts. It's formulated with shea butter, jojoba oil, and organic beeswax so you know it means business when it comes to keeping lips hydrated.
SheFinds receives commissions for purchases made through the links in this post.