Is there anything to get you into the holiday spirit better than a great Black Friday sale? While the jury is still out as to when it's appropriate to start playing Christmas tunes, we can all agree that it is never too soon to start marking down prices in the name of gift-shopping (even if the person you're buying gifts for is yourself).
And Madewell seems to agree. The brand confirmed that it is hosting a sitewide sale for Black Friday again. Everything our hearts desire will be 30% off for Black Friday. This is the same sale it hosted last year, and we are really loving this tradition.
But wait – it gets better. Madewell actually started Black Friday early this year, offering an early access sale way before November 29 with a 25% off discount. But now is the moment we've all been waiting for, with the true Black Friday cyber sale. Your entire purchase on Madewell will be 30% off with the code GIFTWELL. Yes, this truly is a gift.
So let's get shopping, ladies. Madewell is our favorite place to get really good quality essentials like jeans, sweaters and accessories in contemporary styles with a trend-focused touch. Here's what we've already added to our shopping carts:
Madewell Buffalo Check Cape Scarf ($38.50 on sale, down from $55)
If you only buy one new scarf this winter, please let it be this one. Madewell made its Buffalo Check Cape Scarf as an answer to our prayers - it's a scarf with arm holes! A cape and a scarf in one! This will be your go-to accessory this season when you need something warm and cozy but still need to look nice. Wearing this scarf is basically like draping yourself in a blanket all day, but fashion.
Really though, if you only buy one thing from Madewell's 2019 Black Friday sale, it should be this scarf. At just over $40, it will be your best purchase when determining cost per wear, because you will definitely wear it all winter long.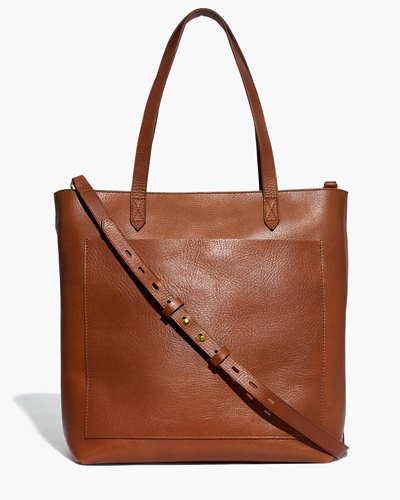 Madewell The Zip-Top Medium Transport Tote ($124.60 on sale, down from $178)
This bag will be your go-to carryall in 2020. It is one of Madewell's bestsellers because it can hold literally everything you need for your day and it has an interior pocket and an exterior pocket to help you keep your stuff organized and easy to reach for. You can carry it either with the detachable shoulder strap or top handles, depending on your style of the day and mood. Plus it comes in three different shades of fine leather so you can pick the color that best resonates with you.
Madewell Velvet Tapered Pleat Pull-On Pants ($68.60 on sale, down from $98)
While this pair of pants might not seem like the obvious choice to everyone, it will be one of your favorite purchases from the Madewell Black Friday 2019 sale. It features a relaxed fit, pleats and a tapered leg, resulting in a smart, tailored look that is super easy to pull off. With their velvet texture and deep cabernet or black choices of color, these pants make the best holiday look when paired with a simple sweater.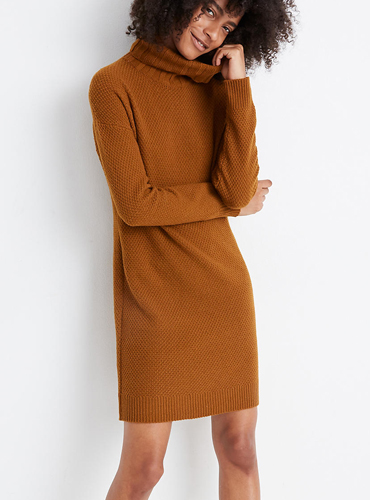 Madewell Foldover Turtleneck Sweater Dress ($89.60 on sale, down from $128)
The sweater dress of our dreams, this style is made from a textured knit with a cozy, wide-ribbed turtleneck. Its relaxed fit teams perfectly with almost every style of shoes, so this dress is soon to be your staple this season.
Madewell Museum Patch-Pocket Mini Skirt ($68.60 on sale, down from $98)
This skirt is one of Madewell's best sellers right now, and for good reason. It might be a mini skirt, but it is still acceptable for colder days because it's made from a wool blend that looks great over tights and boots. It features a noticeable front seam and patch pockets for an ultimate vintage vibe.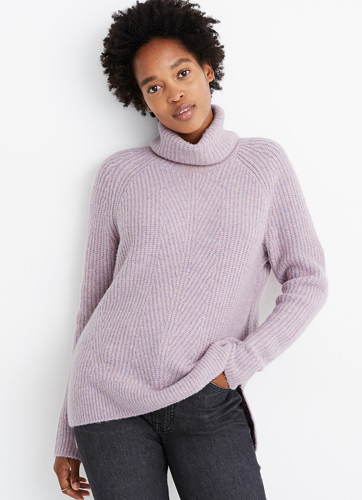 Madewell Mercer Turtleneck Sweater in Coziest Yarn ($55.65 on sale, down from $79.50)
And what trip to Madewell is complete without grabbing yet another sweater for your collection? We're picking this one because it is the coziest sweater you can get. Really - it's made with Madewell's signature Coziest Yarn for the ultimate level of comfort. Plus it comes in a bunch of great color options and has a chunky turtleneck and unique ribbed patterns for a unique flair.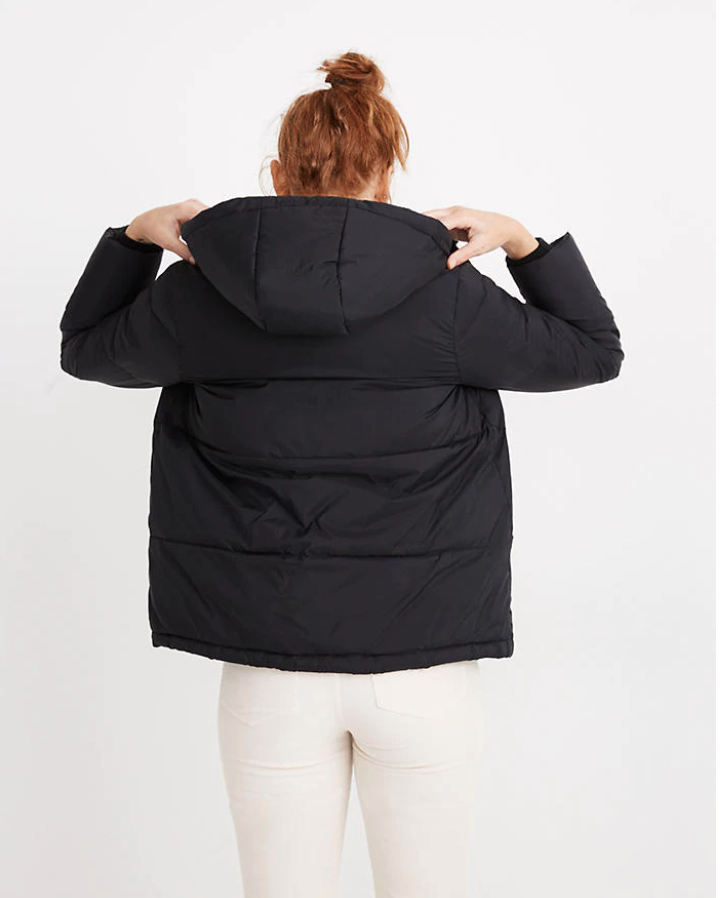 Quilted Puffer Parka ($147 on sale, down from $228)
The ultimate source of warmth during the winter, Madewell's puffer parka is as functional as it is fashionable. It features an A-line fit inspired by vintage ski jackets and is padded with an eco-friendly, warm insulation that is 100% recycled and 100% warm. Plus, this style comes in either red or black.
SheFinds receives commissions for purchases made through the links in this post.