Spring is all about revival, especially when it comes to your skincare routine. Your skin suffered through the cold weather months and struggled to lock in moisture. Plus, it was missing the healing, nourishing benefits of vitamin D since it was too cold to be in the sun.
Thankfully, you can change all of that this spring. Now's the time to invest in products that will keep your skin protected and healthy. A great way to do this is by using products that offer long-lasting hydration and SPF protection.
Our favorite new spring beauty product is Maybelline's Baby Lips Moisturizing Lip Balm. It keeps chapped lips at bay by delivering instant hydration that lasts up to 8 hours. It's clinically proven to make lips 82% visibly less dry, 94% less rough, 77% more supple, and 77% better looking after just four weeks of use.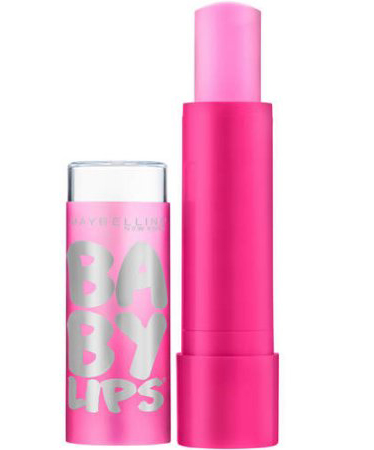 Maybelline Baby Lips Glow Lip Balm in My Pink ($1.88)
This fan-favorite lip balm is now available in a gorgeous pink shade that adds the perfect flush of color to the lips. It's ideal for those who want to enhance their glow while still rocking a subtle lip color. And, if you get it at Walmart.com, it will only cost you $1.88!
What people are saying about it:
"Soft and beautiful lips with a nice hint of color. Pink is always a great shade and with the results of Baby Lips you can't go wrong." - mariaga6fe
"Maybelline Baby Lips Glow Balm: I used this lip every day, it gives a gentle pink color to my lips, and sometimes I use it as a highlighter :)" - zarina2998
"One of the best lip balms out there. Soft, smells and tastes great. It isn't greasy or sticky and leaves just a hint of color on my lips." - heatherpc6af
Maybelline Baby Lips Lip Balm in Cherry Me ($2.98)
Baby Lips Lip Balms are also available in various shades that add a sheer tint. Cherry Me has a radiant red tint and a yummy cherry aroma.
What people are saying about it:
"If I could only have 5 makeup products, this would be one of them. What a classic! I first got this when I was 14 and I still come back to it. It adds moisture and just the perfect amount of color." - Jana S.
Maybelline Baby Lips Lip Balm in Pink Punch ($2.98)
Pink Punch, on the other hand, has a light pink tint and adds a beautiful shine to the lips that glides on for a natural, healthy look.
What people are saying about it:
"I've been buying this for the past five years and its consistently the best lip balm out there." - lipbalmaddict
Maybelline Baby Lips Lip Balm in Quenched ($2.98)
If tinted balms aren't your thing, you can also get it in Quenched, a colorless balm, which also has SPF 20 protection.
What people are saying about it:
"I keep one at my desk, in my purse, in my car, everywhere. Love these!" - kkh
Are you a Baby Lips fan? Let us know which shade is your favorite in the comments below!
SheFinds receives commissions for purchases made through the links in this post.