If Meghan Markle and Prince Harry were your ordinary, everyday beautiful couple in love and getting married, taking a limo to and from the ceremony would suffice. When you're royal, being transported via a carriage that looks as if it's come straight out of a fairytale is in order. And Meghan and Harry's wedding carriage procession will be no exception.
In case you don't already have it blocked out on your Google Calendar, Meghan and Harry are getting married on Saturday, May 19 at St. George's Chapel in Windsor Castle. The royal nuptials are going to be the event of the year and a historic wedding of epic proportions. Naturally, one doesn't just take a plain, old car to such an event (although given Harry and Meghan's down to Earth natures, we wouldn't be too surprised if they decided last minute to buck royal protocol).
Assuming the couple follows in the footsteps of royals before them, like Prince William and Kate Middleton and Princess Diana and Prince Charles, a royal chariot will be involved in the wedding procession.
Here's everything you need to know.
Meghan Markle & Prince Harry's Wedding Carriage
Meghan And Harry's Carriage Procession Will Take The Place Of Another Royal Tradition
Royal couples often adhere to a wedding tradition that has become expected of them: posing on the balcony of Buckingham Palace and kiss in front of the gathering crowd. This slice of sweetness serves as a first public appearance as husband and wife. And let's be honest, it's also just super cute to see the royal Duke and Duchess smooch in their gorgeous wedding apparel.
But don't expect the same from Meghan and Harry. Windsor Castle is a bit too long a drive from Buckingham Palace for the new couple to swing by and share a kiss on its iconic balcony. While Windsor Castle has all kinds of other fancy accouterments, a balcony that's appropriate for a first public kiss is not one of them.
In lieu of a kiss, Meghan and Harry will pay their respects to the public by traveling around Windsor in a carriage directly after their wedding ceremony, reports Town & Country. The ride will start at 1 pm and last about 25 minutes (and you can be sure it will be televised, along with every other detail of their wedding day).
Kensington Palace has already released a statement about the carriage procession:
"Prince Harry and Ms. Markle are very much looking forward to this part of the day. It will be their chance to express their gratitude for the goodwill and warm wishes they have received from all quarters in the months since their engagement."
We even got details from the Palace about the type of carriage they'll ride around in (because there's more than one carriage and each has its own history).
Meghan And Harry's Wedding Carriage Has A Lot Of History
The carriage that Meghan and Harry will ride in is called the Ascot Landau carriage. According to a message released by Kensington Palace on Twitter, it may or may not be the exact carriage used by Prince William and Kate Middleton on their wedding day.
"The carriage is one of five Ascot Landaus in the Royal Mews. The carriages are used in official and ceremonial state events, such as Coronations, Royal Weddings and State Visits," according to the palace.
The carriage will be led by horses, of course, including a father and son duo named Storm and Tyrone. The gorgeous Windsor Grey horses will lead the procession through Windsor Castle following the wedding ceremony.
The Ascot Landaus is the royal couple's fair weather transportation plan. But let's remember they're getting married in England, where rain is always a possibility. In the event of bad weather, the royals have a solid Plan B carriage.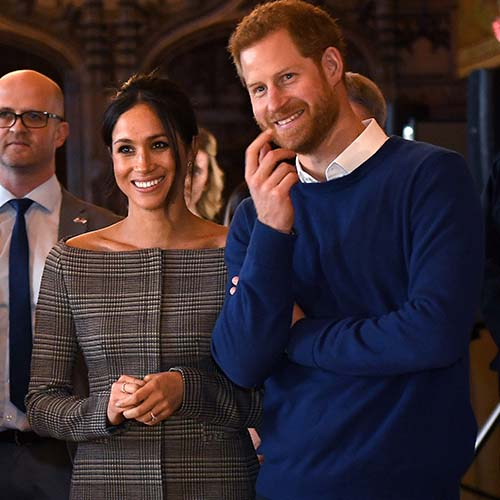 Rain Plans And The Procession Route
So, what will Meghan and Harry do if the skies open up on their wedding day? They'll simply use the Scottish State Coach, an enclosed carriage led by horses.
The wedding carriage will leave Windsor Castle right after the ceremony and make its way along High Street in Windsor before taking the Long Walk to return to the caste. Harry's dedication to his brothers and sisters in the British armed forces will also be felt. More than 250 members of the British military are expected to perform ceremonial duties at the wedding, according to a statement from the UK Ministry of Defense.
Meghan and Harry's wedding is going to be a spectacular event and it's only just a few days away.
For more royal wedding news, check out:
--Meghan Markle's Wedding Day Makeup Will Include Her Favorite Products
--We Finally Know Who Will Be Designing Megan Markle's Wedding Dress