All eyes are on Prince Harry and Meghan Markle right now as they take their vows at St. George's Chapel in Windsor Castle. From her beautiful wedding dress to her hairdo, she looks stunning.
When Meghan arrived at the chapel, we couldn't help but notice the bride's dazzling diamond tiara–the Queen Marry Diamond Bandeau Tiara loaned to her by Queen Elizabeth.
In the British monarchy, tiaras are more than just pretty headwear. Just to clear up any confusion, tiaras are not the same as crowns. Tiaras can be worn by almost anyone, given the right occasion, but crowns signify a state of power.
It's tradition for royal brides to wear a dazzling tiara on their wedding day. While Meghan has been known to go against royal tradition a few times during her wedding planning process, this one seems almost too big for her to challenge. Kate Middleton wore one on her wedding day to Prince William in April 2011. In fact, the tiara that Kate Middleton wore was borrowed from Queen Elizabeth. And before her, Princess Diana wore one when she married Charles, Prince of Wales, back in 1981.
The Queen Mary Diamond Bandeau Tiara that Meghan adorns for her royal wedding was made in 1932. In the past, the bandeau tiara has been seen with a sapphire stone in the center, but for her wedding, Meghan chose a diamond.
The veil is held in place by Queen Mary's diamond bandeau tiara, lent to Ms. Markle by The Queen. The diamond bandeau is English and was made in 1932, with the entre brooch dating from 1893.

— Kensington Palace (@KensingtonRoyal) May 19, 2018
Speculations were incorrect in thinking Meghan would wear a tiara from Princess Diana Prince Harry's late mother, to honor her on this big day.
In 1981, Princess Diana wore the Spencer Tiara, a family heirloom of hers, on her wedding day. The Spencer Tiara features scrolls surrounding diamond shaped tulips and stars. It's also been worn by Diana's sisters, Lady Sarah and Lady Jane, on their wedding days. If Meghan chooses a jeweled headpiece, this tiara is a likely contender. Considering Princess Diana passed away at the age of 36, the same age that Meghan is currently, this would be a sweet sentiment for her.
For more about the royal wedding, check out their wedding invitations, their pastry chef baker, and made their cake selection.
Another possibility is Princess Diana's Cambridge Lover's Knot Tiara. It was a favorite of the late princess and has been worn by Kate Middleton on numerous occasions. The tiara was gifted to Diana by the Queen on her wedding day to her son.
Another potential headwear choice that Meghan might make is to have her own tiara commissioned for her, although this is not as likely or traditional. The last royal to do this was the Duchess of York on her wedding day to Prince Andrew, Duke of York, in 1986.
The Kensington Palace has not yet confirmed any of the rumors in regard to Meghna's royal wedding headpiece.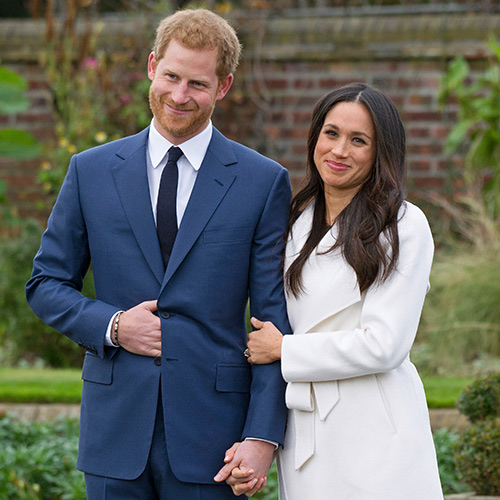 There is one tiara that we know for certain that Meghan will not be wearing at her upcoming royal nuptials at Windsor Castle. The Cartier Halo Tiara, famously worn by Kate, Duchess of Cambridge, on her wedding day is out of the running. The jeweled headpiece was given to Queen Elizabeth by her mother as a birthday present when she turned 18. Originally, the tiara was purchased by King George VI, for the Queen Mother in 1936.
Needless to say, the iconic tiara has a deep-rooted history in the British royal family. The tiara was then loaned to Kate for her wedding. The reason Meghan Markle won't be wearing the tiara, even if she wanted to, is because on May 19 it's scheduled to be on display in Canberra, Australia. Starting today, March 30, through July 22, the Cartier Halo will be loaned and featured in Cartier: The Exhibition, a jewelry show at the National Gallery of Australia.
With the Cartier Halo being out of state for Meghan and Prince Harry's royal wedding is a bit of a bummer, it's clear Meghan has plenty of other beautiful tiara options to wear on her wedding in May.
[Photos: Splash]