When you become an official member of the Royal Family, everything gets a little more complex. Even something as simple as what everyone should call you takes on a new and deeper meaning. Pretty much from the day the world learned that Meghan Markle and Prince Harry were head over heels in love and headed to the altar, we began referring to her as a new princess. One the day they announced their engagement,  we were sure we'd see Meghan emerge from her home wearing the sparkliest tiara in all of the land.
But, the British Royalty doesn't operate that way. The Royal family has incredible historic roots and obeys by a strict set of rules, traditions, and protocol, down to the letter. There are just as many rules about who gets to wear a tiara, the type of tiara, and what time of day they wear a tiara, as there are rules about the ladies of the house wearing pantyhose with dresses (though Meghan breaks that rule all of the time so maybe that's all changing).
There's one area that Meghan will not be able to influence a change in any way–her royal title. When it comes to what Meghan Markle's royal name and title will be after she marries Prince Harry in May, Meghan has absolutely no say. Royal titles for future spouses of the Royal family are decided years in advance–before she and Harry even met.
Of course, you're curious now about what you'll be able to call Meghan after the royal nuptials.
Here are all of the details about Meghan Markle's new royal name: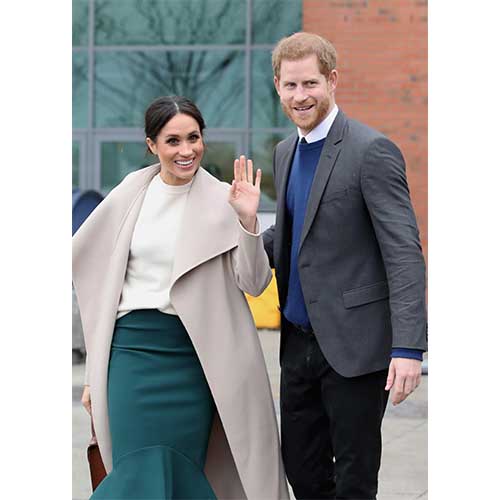 What Is A Royal Title?
Titles are incredibly important to Queen Elizabeth and the entire Royal family. So much so, that the Royal family only allows women born into royalty to keep their names after a title. For example, Princess Charlotte and Princess Margaret, who were both royal at birth, keep those names. When it comes to Meghan and Kate Middleton, who were commoners prior to meeting Prince Harry and Prince William, they will never get to be called princess. Sorry to burst that bubble.
In fact, despite how the world referred to Prince Harry and Will's mother as Princess Diana, her official title was Diana, Princess of Wales. Notice how tradition is adamant about keeping the title "Princess" and a commoner's name far enough apart so as not to connect them.
On their wedding day, Prince Harry (like all male descendants of the thrown) will receive a new ceremonial title from the Queen and Meghan will receive the female equivalent of that title. When William married Kate, he became the Duke of Cambridge and Kate took on the title Duchess of Cambridge.
There are a few options the Queen can go with, according to The Telegraph.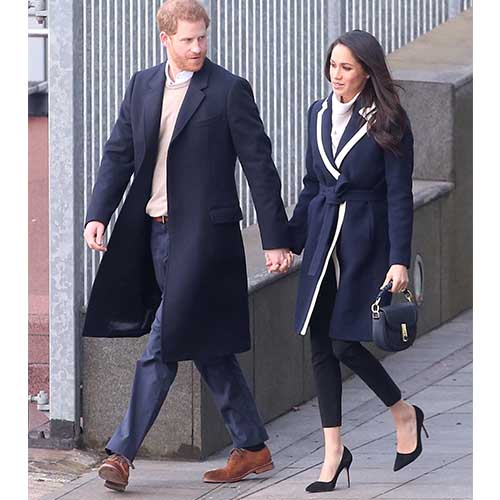 What Will Meghan Markle's New Title Be After Marrying Prince Harry?
The most popular title option and the one that many believe Queen Elizabeth will choose on Harry and Meghan's wedding day is Duke and Duchess of Sussex. Duke is the highest ranking out of titles that include Earl, Baron, and Viscount. Many people to believe the Queen has reserved it for her grandsons. Other possibilities include the Duke and Duchess of Clarence, Albany, Windsor, Connaught, and Cumberland.
As it now stands, the popular guess is that we will all be introduced to the new Duke and Duchess of Sussex on the Royal couple's May 19 wedding day. Harry and Meghan will be the first Duke and Duchess of Sussex since 1843. But that's not the end of the excitement about new names. Meghan and Harry will also pick up Scottish titles.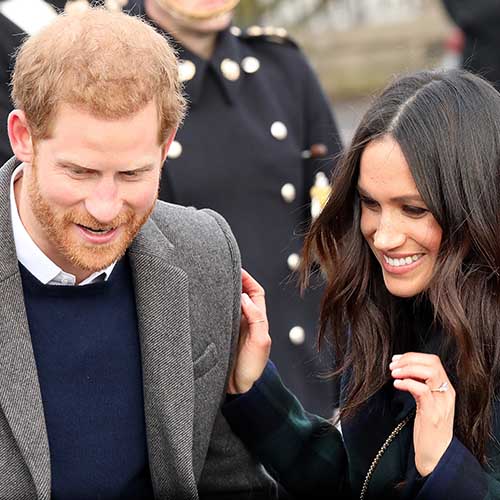 What Will Meghan And Harry's New Scottish Titles Be?
In keeping with Royal tradition, Queen Elizabeth will also bestow upon her grandson and her new granddaughter-in-law new Scottish titles. These Scottish titles with coincide with their British names. Experts suggest they will become the Earl and Countess of Ross, according to the Daily Mail.
However, there's one spooky reason why this title may not end up becoming the winner--it was last held by Charles I, who was executed in 1649. For that very valid reason, the title could be considered unlucky.
There's no way to be 100 percent certain what Prince Harry and Meghan Markle's royal titles will be. We'll just have to be patient and wait until May 19 (just a few more weeks, after all) to get all of the details.
More news on Meghan Markle and Prince Harry, on SHEfinds:
--We Have All Of The Details On Meghan Markle's Wedding Day Tiara
--We Have Information On What Meghan Markle's Wedding Dress Will Look Like
--Take A Look At The Royal Wedding Invitations
[Photos: Splash]