The world can't get enough of Meghan Markle right now–or Meghan Markle and Prince Harry together. In fact, we like them so much that they've been immortalized in a way that has become a rite of passage for celebrities: Meghan Markle is officially a wax figure!
And we can't forget about Prince Harry, whose wax figure is standing right beside her. Prince Harry's wax figure was created for him in 2014 when he celebrated his 30th birthday. Now back to Meghan.
The fervor over all-things Meghan started about a year ago when we learned the former Suits actress and the prince had met, fallen head over heels in love, and she was picking up her life and moving to England to become his better half. Not that there's anything wrong with auditions and Hollywood accolades, but trading that all in to become the possible Duchess of Sussex (though we'll always refer to her as an American princess) isn't exactly getting the short end of the stick.
Meghan Markle's Wax Figure At London's Madame Tussauds Wax Museum
Naturally, London's Madame Tussauds wax museum came calling. And while beauty is in the eye of the beholder and Madame Tussauds doesn't always nail it on the head when it comes to wax replicas, this time they totally got it right, down to the gorgeous and iconic dress they chose to depict Meghan wearing.
Details About Meghan & Harry's Wax Figures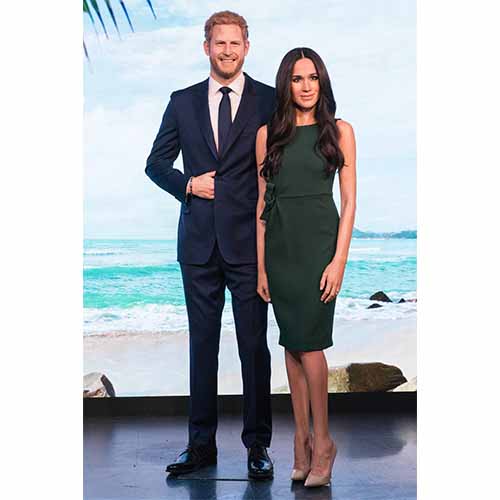 Every Last Detail Of Meghan's Wax Sculpture Is Perfection
Madame Tussauds got just about every last little detail right with Meghan's wax sculpture, right down to her sparkling diamond engagement ring.
Given Meghan's impressive, sophisticated wardrobe, the artists could have chosen one of any number of dresses in which to immortalize Meghan. But they wisely chose a special one that shows off the future royal's simple, elegant style: her dark green, sleeveless P.A.R.O.S.H. shift dress that she wore while posing for engagement photos with Harry, reports Time.
Even more incredible is if you look down at her ring finger, there it is a carbon copy of the 3-carat cushion cut diamond from Botswana that Harry had designed for his love.
True to life, Meghan's makeup and hair are also on point--her lush dark hair is down, her skin is glowing, and she's wearing her trademark nude-pink lipstick.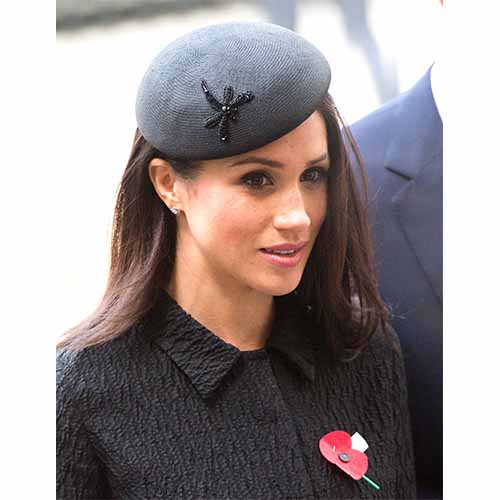 Meghan Markle's Wax Sculpture Will Be Unveiled On A Very Special Day
Madame Tussauds has Meghan's wax sculpture all ready to go, but the museum has decided to wait until a very special day to unveil it: Friday, May 18. It's the night before Meghan and Harry exchange vows at St. George's Chapel in Windsor. The museum made things official on Twitter:
"OMG the day has come! We're SO excited to announce that Meghan Markle will be joining Prince Harry at #MadameTussaudsLondon on the 19th of May! Who's ready to hang with the royal couple? 🙋 #RoyalWedding #MeghanMarkle"
They even released a statement encouraging Meghan and Harry fans to celebrate with them, "There is a lot of love out there for Meghan and Harry and we're following their lead by inviting the great British public to join the couple in their wedding celebrations here at Madame Tussauds London," the museum's general manager Edward Fuller said in a statement.
Look, if you still haven't received your invite to the wedding or reception at St. George's Hall (seriously, what's taking so long?) and you happen to be in London on May 19, you can still take your selfie with Meghan and Harry. Head over to Madame Tussauds Wax Museum, get your camera ready, and take notes on Meghan's wax makeup and hair—which is just as perfect as it is in real life.
Tickets to the show will start at $39 for adults, but there's good news if your name just happens to be Meghan or Harry--you get in for free. Sweet.
For more news about Meghan Markle and Prince Harry, check out:
--We Finally Know Who Will Be Designing Meghan Markle's Wedding Dress
--Who Is Walking Meghan Markle Down The Aisle? Here's Everything We Know So Far!
[Photos: Splash]