ICYMI: Memorial Day Weekend is SO close we can practically taste it. It's the unofficial kickoff to summer and I plan on spending 90% of my trip back home laying by my pool and catching some rays. With the promise of summer comes the promise of barely-there makeup, air-dried hair and a sun-kissed glow. 
No perfect sunny day is worth a future of leathery skin or dry, brittle hair so on top of all my favorite sunscreens, I'm bringing a bunch of unique beauty products with me to provide some much-needed assistance. If you're planning on catching up on some R&R this weekend, fussy beauty products shouldn't have a place in your suitcase. Here are my new favorite products I'm stashing in my suitcase for my sun-filled long weekend.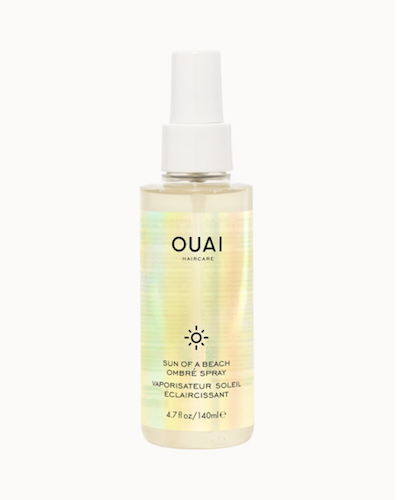 1. Ouai Sun of a Beach Lightening Spray ($24)
This is like the grown-up high-class version of Sun-In. If you're looking for an easy way to help along your naturally sun-kissed highlights, this is your spray. It's a lemon-coconut-water spray that is heat-activated (feel free to use it with outside sun or your hair-dryer) to help brighten your locks. The best part? It's for ALL hair colors, not just blondes.
Customers said:
"Amazing! I was going to wait to write a review until I used it a few times, but I wanted to write one already because of the difference I noticed in just one use! After showering I spritzed this on my front pieces framing my face and the bottom half of the rest of my hair. I brushed it through and used my heat protectant, then proceeded to use my blow dryer on the highest heat setting. Although my hair does feel a bit heavy, I don't mind because in just one use I got amazing results! My hair has definitely lightened by a few shades. I'm really excited to keep using this, and hopefully achieve the perfect highlights for summer. This gave me the same effect that I achieved from a $250 highlighting appointment 6 months ago, but better because I can keep building, it took a fraction of the time, and I saved myself $220. 10/10."
2. Herbivore After-Sun Skin Aloe Mist ($20)
This all-natural soothing spray is composed of aloe, cooling mint, lavender and witch hazel which creates instant relief for any skin that's been out in the sun too long. I'm obsessed with the cooling factor especially since the heat you get from a sunburn is brutal. It gets bonus points for smelling divine.
Customers said:
"Feels great on my arms that are exposed to the sun a lot. It has helped to minimize my dry skin and get rid of the itchiness. Convenient to use with the spray bottle."
3. Supergoop Invincible Setting Powder ($30)
While using sunscreen every day is the cardinal rule of skincare, I get really frustrated when I end up with sticky, thick sunscreen on my face that makes me breakout. This Supergoop setting powder is next level. Not only does it help set my makeup and prevent oil and shine, it also provides broad spectrum SPF 45. You can easily take this on-the-go and reapply your sunscreen without having to sacrifice a full face of makeup.
Customers said:
"I have heard a lot about Supergoop and I think the hype holds up! This is a great sunscreen powder that you can easily reapply throughout your day. Since I'm indoors all day for work, I try to apply this about 15-30 mins before I head out to grab lunch. It's easy to keep in your bag, DOES NOT LEAVE A WHITE OVERLAY (so don't worry about looking like a ghost if you are a person of color!) and it's priced fairly for the amount of product you get. Highly recommend!"
4. Sachajuan Hair After Sun ($32)
If you enjoy swimming, this product is heaven sent. Being blonde, I always shower after spending time in the pool to protect against the possibility of ending up with chlorine green hair. However, this product protects your hair IN the sun to combat discoloration or fading. I also use this in my hair post-shower and this works great as a leave-in conditioner and heat protectant that leaves my hair silky smooth and shiny.
Customers said:
"Omg omg omg I love this people!!!! It protects my hair in the sun?? How incredible! I also use it as a heat protectant and love it. It never leaves my hair greasy or weighs it down. and smells ahhhhh-mazing and keeps the smell!! It spreads easily through my hair as well. You gotta try this."
5. Korres After Sun Greek Yoghurt Cooling Gel ($26)
In case you didn't already get the theme here, this is an excellent product for when you have a sunburn. This gel helps soothe the stinging feeling you get after too much sun exposure and helps hydrate the skin.
Customers said:
"This is one of the best products to use in the summertime. I keep it in the fridge for extra cooling feeling. Feels wonderful on the skin after a sun burn. Takes the heat and the redness away delivering needed moisture to the skin."
More on SheFinds:
-These Are The Top 5 Hydrating Face Masks To Give You Baby Soft Skin
-These Are The Best Natural Serums You Should Be Using, According To A Facialist
-This Is The Best Light Pink Nail Polish That Looks Amazing Year Round
SheFinds receives commissions for purchases made through the links in this post.