It's just about that time–the Met Gala is around the corner. The biggest celeb-filled fashion-meets-art fundraiser of the year will take place on May 7, the first Monday in May, as dictated by tradition. The Met Ball, also known as the Costume Institute Gala, is an annual event that raises money for New York City's Metropolitan Museum of Art's Costume Institute.
Vogue's Editor in Chief Anna Wintour is pretty much the queen of the event and has served as its chair since 1995. Only about 700 people are invited to the Met Ball every year, most of whom are notable personalities in film, music, fashion, and the arts (with a few socialites thrown in for good measure).
Considering the event raises millions of dollars for the Costume Institute, one of the best reasons to tune in is to get a glimpse at all of the gorgeous, elaborate, and uber creative gowns and ensembles that the celebrities wear on the red carpet. Each year a different theme is chosen and guests are expected to work with designers in coming up with the perfect gown–or suit, trousers, or capes because nothing is off limits.
Past Met Gala themes have included China: Through The Looking Glass in 2015, an excellent documentary called The First Monday in May chronicles the creation of the 2015 ball from start to finish, Manus x Machina: Fashion In An Age of Technology in 2016, and Rei Kawakubo/Comme des Garcons: Art of the In-Between in 2017.
For this year's event, here's everything you need to know about the theme, its star-studded guest list, all of the amazing fashion, and who will join Wintour as co-chairs of the event.
Your Guide To The 2018 Met Gala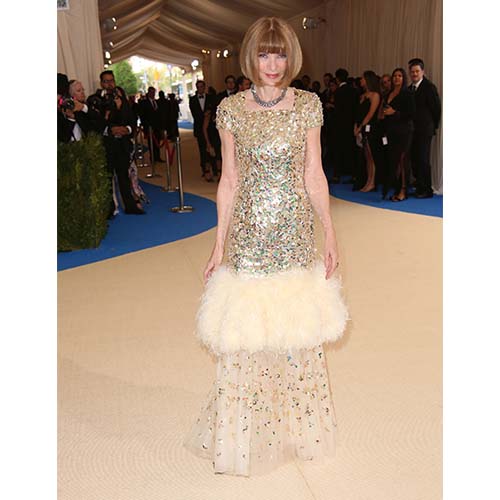 Anna Wintour at the 2017 Met Gala.
The 2018 Met Gala Theme
This year's Met Gala theme is "Heavenly Bodies: Fashion and the Catholic Imagination," Vogue reports. This theme will explore the connection between fashion and religious art within the museum. The Ball is expected to include 40 pieces on loan from the Sistine Chapel, as well as designs from John Galliano, Coco Chanel, Donatella Versace, and Cristobal Balenciaga. The exhibit will be curated by Andrew Bolton and, interestingly, will take place in three spots--which reminds one of the Trinity in Catholicism: the Anna Winter Costume Center, the Met's medieval galleries, and the Cloisters in uptown Manhattan. Bolton explained that the goal with this year's theme will be the show how "material Christianity" helped form "the Catholic imagination."
If you happen to be in New York City, the exhibit will be on display from May 10 until October 18, 2018.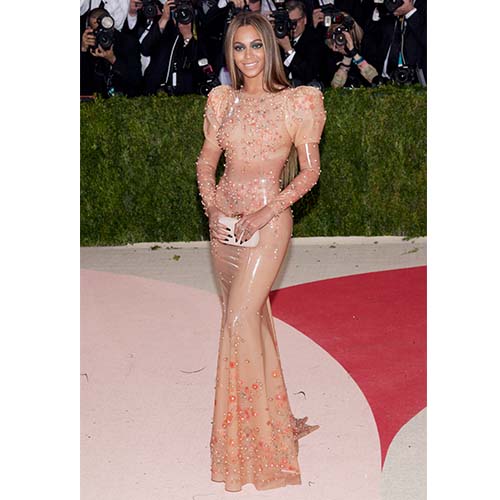 Beyonce at the 2017 Met Gala.
Who Are The A-Lister Guests That Are Expected To Attend?
If you've been paying attention to the Met Gala these past few years, you already know that Rihanna has transformed herself into the reigning star of the ball. RiRi never fails to show up dressed fully in theme from head to toe (the heavenly yellow Chinese couture gown by Guo Pei that she wore in 2015 has become a classic look).
Rihanna actually found that designer herself by researching online, reports Vanity Fair. That alone is the reason why she deserves a spot as one of Anna Wintour's co-hosts at this year's Met Gala. Wintour's other co-hosts are worthy of major love, too: Donatella Versace and Amal Clooney.
As far as the Met Gala guest list is concerned, it's really difficult to score an invite and only a few make it to the top of the list. Since Wintour and her team are careful about not leaking the list, we can only take a few guesses of who will attend based on past years: Beyonce, Kendall Jenner, Kim Kardashian, Gigi and Bella Hadid, Zendaya, Priyanka Chopra, Kylie Jenner, Selena Gomez, Michael B. Jordan, Paris Jackson, and Alexander Skarsgard are just a few of the many incredible celebs you'll probably see again on the red carpet at this year's Met Ball.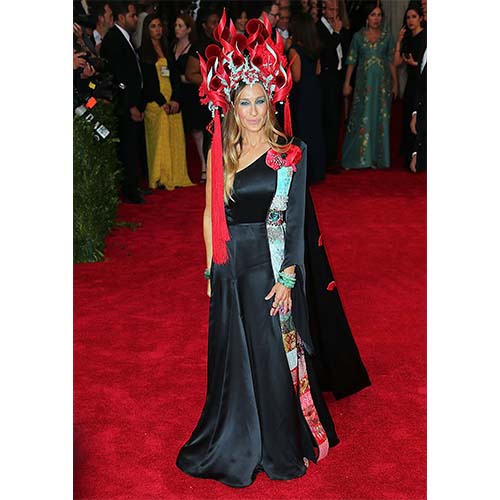 Past Iconic Met Gala Fashion Looks
Anyone who writes off the Met Gala as just another fashion-filled fundraiser is failing to pay homage to the incredibly iconic Met Gala looks that were born from the ball and its interesting themes.
In 2015, Sarah Jessica Parker strolled the red carpet at "China: Through the Looking Glass" wearing a mystical dress designed by H&M and a flame headdress by Philip Treacy.
Lupita Nyong'o looked like a dream come true in a mermaid-green Calvin Klein Collection gown in 2016.
Kendall Jenner's cut-out Atelier Versace in 2016 announced to the world that the model was a force with which to be reckoned.
And last but certainly not lease, Rihanna showed off her commitment to fashion and honoring themes and designers when she wore a stunning, risky Comme des Garcons to last year's event.
Just a few more weeks until Met Gala red carpet magic and it will be very interesting to see how celebrities interpret this year's religious theme.
For more fashion news, check out:
--The Bizarre Bathing Suit Trend That Will Be Everywhere This Summer
--4 Heels That Meghan Markle Could Wear On Her Wedding Day [Photos: Splash]