Eating your way to weight loss and a faster metabolism isn't a fantasy — it's the real deal, as long as you're picking and choosing the right foods.
You can't speed up your metabolism by starving yourself or restricting foods. Instead, focusing on protein-rich ingredients that fill you up is the way to go. And one of the most perfect foods is this one: the one metabolism-boosting food doctors swear by to burn calories faster for weight loss.
Shutterstock
Legumes

Let's talk legumes.

You've heard the word — plenty of times — whenever the topic of "healthy foods" is brought up.

Legumes are basically the perfect weight loss (or anytime) food. And they're versatile and can be added to everything from soups to salads.
Shutterstock
A broad category, legumes describe the seeds of plants that are from the legume family. These include foods like lentils, chickpeas, alfalfa, carob, soybeans, clover, lupins, and peanuts.

Legumes are often lumped together with beans for a good reason: both plant-based foods are very high in protein, low in fat (or fat free), low in sugar, and high in filling fiber.
Shutterstock
Legumes aren't a diet food that will leave you craving more snacks and sweets hours later. This satisfying ingredient contains so many nutrients that you'll do your body a world of good when you incorporate legumes into more meals and side dishes.

One cup of peas, for example, contains 96 percent of your daily intake of vitamin C, as well as high amounts of potassium, vitamin A, iron, and magnesium. And legumes like chickpeas and lentils can actually lower your blood sugar levels and help you lose weight.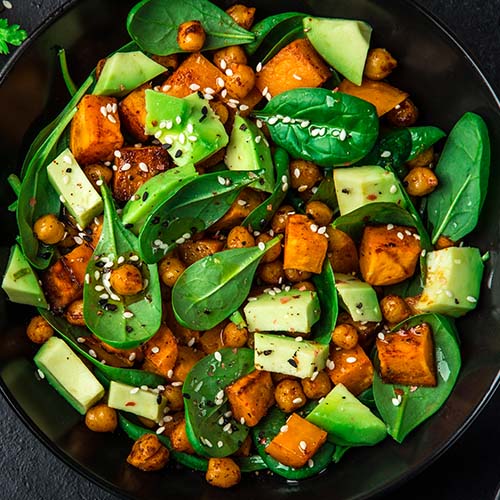 Shutterstock

If you're searching for a few good legume recipes to put you on the right path toward better health and weight loss, start with this chickpea and spinach salad. The anti-inflammatory meal or side dish is delicious and packed with protein, fiber, and vitamins and minerals.

Here are the ingredients you'll need:

Chickpeas
Parsley
Red onion
Olive oil
Lemon juice
Lemon zest
Ground cumin
Cayenne pepper
Salt and pepper
Baby spinach leaves
Fresh mint leaves