Many of us want to eat healthier, but aren't sure where to begin.
It's been long established that breakfast is an important meal that provides an excellent opportunity to boost your metabolism and energy levels so that you are ready to tackle the day.
But some common breakfast food choices are way too high in sugar and calories and low in important nutrients you need.
This is the one metabolism-boosting food you can eat every morning without gaining weight.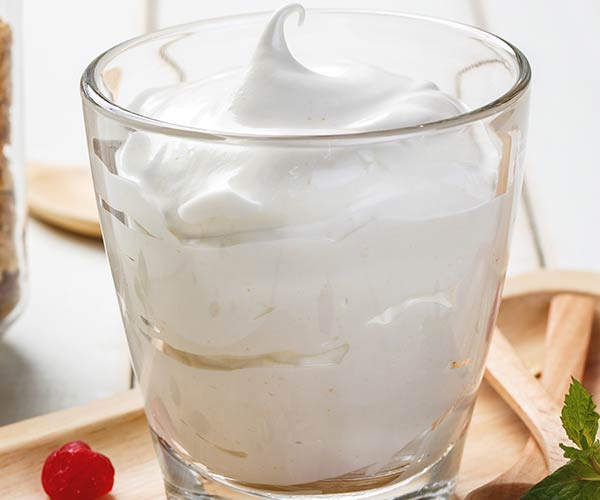 Shutterstock
Yogurt

Greek yogurt — plain and low in fat — is one of the best foods you can eat in the morning. Not only will this low-calorie food not cause weight gain, but it boasts so many important nutrients that are important for your health and weight loss goals.
Shutterstock
For starters, yogurt contains probiotics, which are live microorganisms that balance the levels of bacteria in your gut, providing more "good" bacteria and eliminating "bad" bacteria. The two main probiotics used in yogurt are Lactobacillus bulgaricus and Streptococcus thermophilus — and the former has been shown in studies to reduce belly fat and help with weight loss.

In addition to taking a quality probiotic supplement, starting your day with yogurt is one of the best things you can do for your gut health.
Shutterstock
Yogurt has plenty of other nutritional benefits.

Among its impressive vitamins and minerals you'll find calcium, which is important for strong bones and teeth, B vitamins, including B12, which is very difficult to obtain from most foods; magnesium, and potassium.

Many yogurt brands also fortify their yogurt with vitamin D.
Shutterstock
You've probably heard about the importance of eating a protein-rich diet when you're trying to build muscle and lose weight. Keep Greek yogurt in your fridge at all times because this is one protein-packed food that will help. One cup of plain Greek yogurt can contain as much as 15 grams of protein — and just 80 to 100 calories.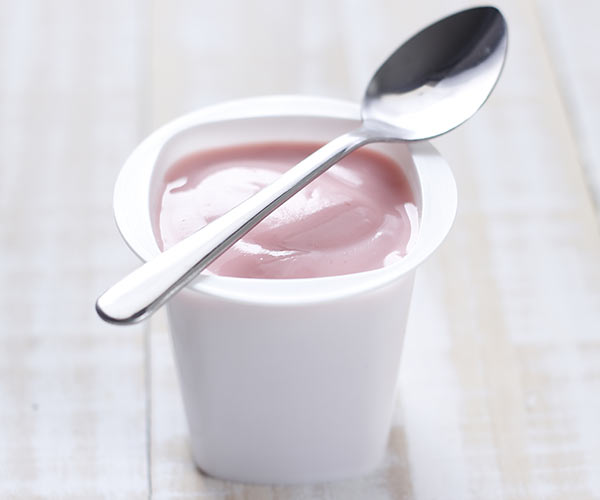 Shutterstock
There is one major thing to remember when shopping for yogurt: plain is best.

You may be tempted to pick up a carton of vanilla or fruit-flavored yogurt. But these varieties are also often chockfull of sugar. You'll still get probiotic and protein benefits, but at the cost of additional calories and sugar your body doesn't need.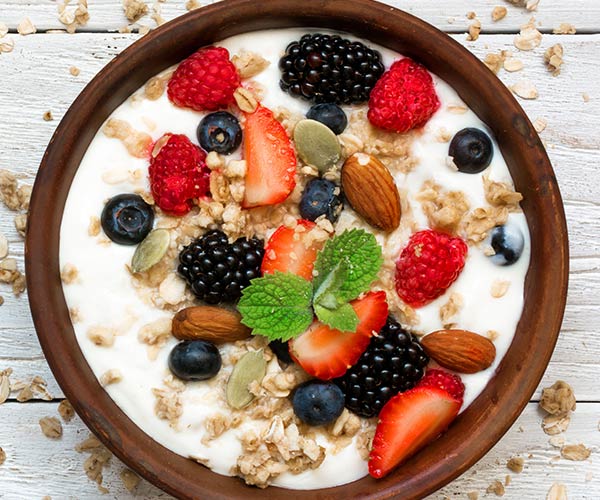 Shutterstock
Not in love with the taste of plain yogurt?

No worries — you can jazz up that yogurt by adding blueberries, raspberries, nuts, seeds, and a tablespoon of natural granola or nut butter. All of these ingredients add flavor, vitamins and minerals, and additional fiber and protein — without adding a ton of sugar.