Everyone's been trying to get the scoop from Miley Cyrus following the news that she and Liam Hemsworth filed for divorce last month, and since she made things official with her new girlfriend, Kaitlynn Carter.
The singer was spotted showing PDA with her new GF, who were twinning with their matching black t-shirts and relaxed denim moment.
Splash
All eyes have been on the budding new couple since it was revealed that they were seeing each other. They first sparked romance rumors when they were spotted kissing while on vacation together in Italy, which happened after Carter and her husband of two-years, Brody Jenner, called it quits and Cyrus and Hemsworth's split.
Cyrus and Carter have been spending quite a lot of time together since then...
Splash
"Miley and Kaitlynn have been inseparable for almost two months," a source told E! News in late August. "Kaitlynn has been a huge support system for Miley, and they haven't left each other's sides in almost six weeks. They are basically living together at this point, and their relationship is getting more serious."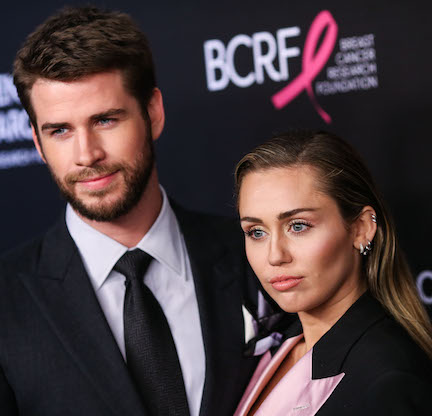 Splash
Details surrounding Cyrus and Hemsworth shocking split are slowly coming to the surface, and we're learning that The Hunger Games star didn't know Cyrus was going to announce their separation on social media. A source told Page Six that he was "blindsided" by the singer's announcement stating that their 5-month long marriage was over and that he was in Australia at the time. Cyrus shared a picture of herself enjoying nature, hinting at her split from Hemsworth with a cryptic caption about how "change is inevitable."
"Don't fight evolution, because you will never win," she wrote. "I was taught to respect the planet and its process and I am committed to doing the same with my own." Her team later confirmed that she and Hemsworth were separating and echoed Cyrus' evolution sentiments. "Ever-evolving, changing as partners and individuals, they have decided this is what's best while they both focus on themselves and careers," the statement read.
Another Hemsworth insider shared that their relationship had been "crumbling" for months and that he'd been "trying to save the marriage, and wasn't ready to publicly announce it."
Splash
Are you surprised to see Miley and Kaitlynn together? Let us know your thoughts on the whole Miley-Kaitlynn-Liam-Brody sitution int he comments below!