Morning presents the perfect opportunity to start your day in the healthiest way possible — with good foods that will increase energy levels and give your metabolism a kick.
But the flip side of this positive movement can occur when you eat too much of the wrong food. And, unfortunately, some of the most popular breakfast items are also filled with sugar and refined carbs.
This is the one morning mistake you should avoid because it causes stomach rolls.
Shutterstock
Filling Up On Too Many Refined Carbohydrates

There are two categories of carbohydrates: refined and unrefined carbs.

Refined carbs are the problematic kind that you've probably been told to avoid. They include processed foods like breakfast cereals, bagels, white bread, cookies, pastries, and even pasta and white rice.
Shutterstock
The problem with filling up on a breakfast like bagels with jelly (both refined carbs) is that these refined carbohydrates have been stripped of many essential nutrients, including fiber, which would ordinarily fill you up.

Instead, these sugary foods spike your blood sugar levels, providing a temporary boost in energy, before they send you crashing a few hours later. They can also affect insulin sensitivity and mess with the balance of good and bad bacteria in your gut, which can lead to inflammation.
Shutterstock
Quite a few breakfast options are made up on refined carbs. In addition to popular choices like bagels and white bread toast, foods like waffles, pancakes, doughnuts, and cereals are considered refined carbs.

And don't be fooled by the fact that many cereals are (relatively) low in calories. Despite boasting just 150 calories per cup, some cereals can contain as much as 10 or more grams of sugar, which makes them have even more in common with desserts than you might have thought.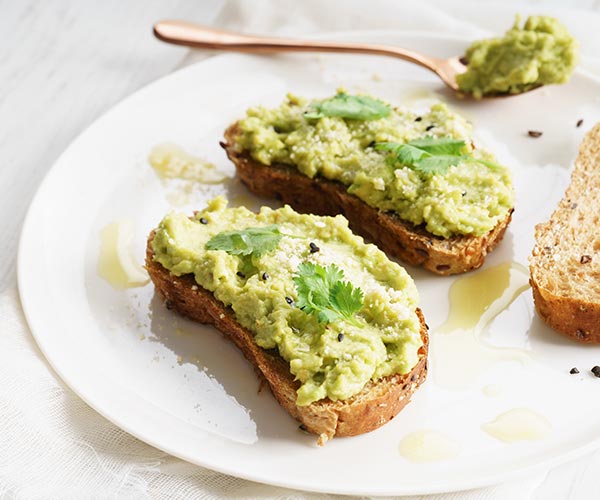 Shutterstock
You don't have to sacrifice all carbs in the morning.

If you love bagels, consider eating half of a bagel, scooping out the middle, and including a protein source like eggs or a healthy fat source like avocado with your bagel.

Other great morning options that provide a nutritional balance include oatmeal, berries, nuts, seeds, and whole wheat toast. Make the most of your morning without filling up on sugar and refined carbs.