If you're a morning person you already know that the first few hours after you wake up are the best you'll have all day. And if you're a night person and you're experimenting with entering the light side, welcome. Your mind is clear and free of most worries and thoughts when you wake up and your body is coming off of a few hours' of fasting. This is the perfect time to introduce a few great habits into your morning routine that will make the rest of your day even more amazing.
You don't have to spend a dime — or even leave your home — to benefit from these four things you should do after you wake up for a better day.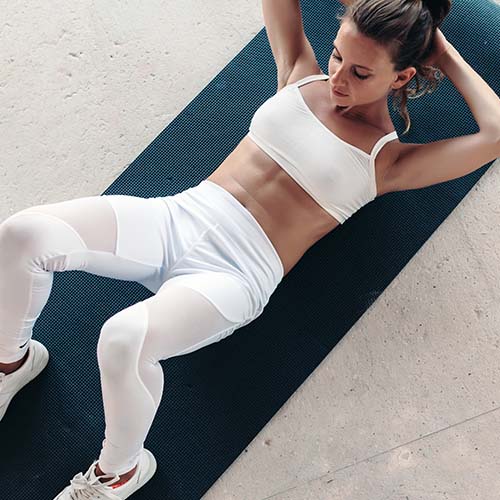 Exercise
There is no bad time of the day to exercise; any time that you can fit into your busy schedule has a positive effect on your health and well being. But many fitness and health experts favor morning exercise because it helps set a healthy tone for the rest of your day. Not only are you benefitting from an added energy boost after you go for a morning run, swim, or yoga session, but it's easier for most people to adopt an exercise regiment into their morning routine that it is at night, when so many other responsibilities seem to fall on your plate.

"There is some research that shows morning exercisers have increased adherence [to their workout routine]," Steve Ball, associate professor of nutrition and exercise physiology at the University of Missouri told Shape. "If you exercise in the evening, life can often get in the way, and people tend to skip more often. Since consistency is a key to maintaining fitness, this [factor] shouldn't be minimized."
Eat Breakfast
Even if you're pressed for time, there's always something you can make for breakfast that will provide enough protein, healthy fats, and vitamins and minerals to energize you and get you through the morning. It's important to break your fast each morning with a nutritious meal — and, yes, a smoothie packed with fruit, veggies, flax seeds, and a scoop of whey protein counts.
Breakfast stabilizes your blood sugar levels and ensures you don't overdo it with unhealthy snacks once you feel mid-morning cravings.
An amazing, simple breakfast to try: Steel-cut or regular oats, antioxidant-rich blueberries, and a handful of almonds.
Meditate
Meditation clears your mind and makes you feel more present and aware of your body and surroundings. The easiest time for a lot of people to meditate is in the morning, before the stress of the day kicks in. Just sitting for 10 minutes and focusing on your breath can lower your blood pressure, according to studies, and help quell anxiety.
It may seem intimidating, but meditating is easier than you think — and there are plenty of apps out there, like Stop, Breathe & Think that provide guided meditations.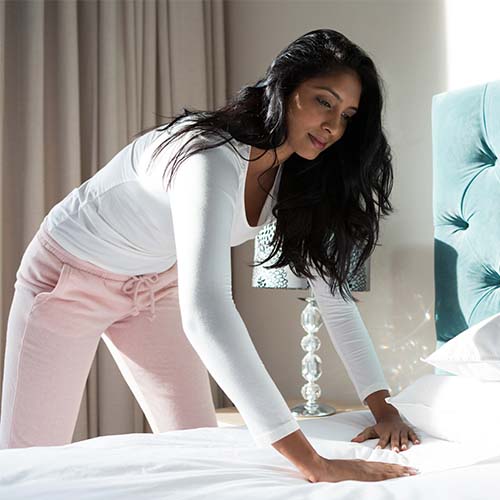 Make Your Bed
It's simple, it takes just two minutes to do, and making your bed is the first task you should perform every morning to feel more accomplished and set the tone for a productive day.
Bonus point: you'll always have a comfy, neat bed to return home to, even after the most stressful day of your life.
For more morning tips, check out 5 Things You Should Be Doing Before Bed To Cut Your Morning Routine In Half and 5 Morning Mistakes You're Making That Are Keeping You From Having A Flat Stomach on SHEFinds.com.
Photos: Shutterstock